A Warm Welcome
July 14, 2016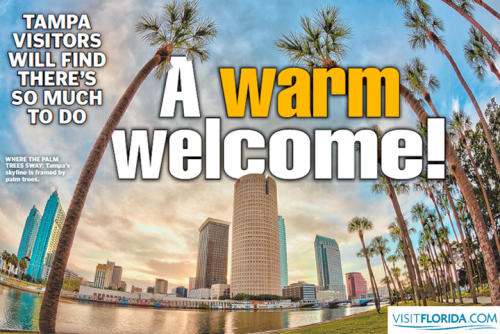 Related Document: Download Document
The hard part about planning a Florida getaway is dealing with the FOMO (fear of missing out). If you head to a great shopping destination, you might miss out on water sports. Find a quaint village, and you might not have a chance to immerse yourself in culture. And if you plan activities with the kids in mind, you might miss some excellent grown-up fun. But Florida has a solution to FOMO — it's called Tampa. This vibrant city in central Florida offers, from end to end, just about every amazing Florida experience one could imagine. Soar on a wild roller coaster in the morning as your kids (or the kid in you) scream with delight, then quietly take in some history in the afternoon. Start your day communing with nature at an impressive zoo or aquarium, then end it at a communal table served by a top chef. Tampa has always had a great vibe and location, but a focus on bringing it to the next level in the past decade has paid off. If you haven't been there in a few years, a visit should be on your list. New features include an art museum and children's museum, a wealth of quality restaurants (Tampa is no longer known for chains) and nearly endless activities, events and breathtaking views along the 2.5-mile Tampa Riverwalk. It all starts as soon as you land. The Tampa International Airport is continuously ranked as a top airport in the world, and with recent renovations and expansions, your arrival and departure is a snap. 

Where to stay
The choices are diverse, and while the city still aspires to be a true five-star location, it offers everything from bohemian chic and classic comfort to large-scale posh and more. For a high-style stay in a large, full-service hotel, the Tampa Marriott Waterside is a great choice. In the heart of downtown Tampa situated along the water-front, the Tampa Marriott Water-side Hotel & Marina features first-class accommodations, including 34 Stay Well rooms, as well as modern amenities, including two on-site restaurants, a waterfront lobby bar, fitness facilities and rooftop pool with views of the city skyline and Tampa Bay. Next door to the Tampa Convention Center and the Amalie Arena, home of the Tampa Lightning, the hotel is also conveniently located to Tampa International Airport, Raymond James Stadium, Port Tampa Bay, the Florida Aquarium and historic Ybor City. Learn more at tampawaterside.com.
For a unique stay mixed with culinary fun, consider the Epicurean Hotel. The first newly constructed property in the United States to join the prestigious Autograph Collection of Marriott International Inc., the Epicurean is situated in the trendy Hyde Park historic district of South Tampa called SoHo. The boutique property is equal parts vacation dream spot and local hot spot. Just down the road from the waterfront of Bayshore Boulevard, the Epicurean is amid the city's social buzz for high-end boutiques  and top-rated restaurants, bars and nightclubs. The hotel's 137 guest rooms and suites blend urban chic and luxurious comfort, each decorated to reflect the culinary heritage and unique nature of the area, with butcher-block-style, cabinetry and reclaimed wood bathroom doors designed by local  craftsmen. The hotel's "Theatre" puts the culinary world on display, often with famous chefs creating dishes right before your eyes. The Epicurean also offers a pool, complimentary bicycles for tooling around town, a fitness center and "Dive in Movies" played poolside at night. Learn more at epicureanhotel.com.
For a classic choice you can count on, head to the Embassy Suites by Hilton Tampa USF. The spacious suites made famous by this brand are there for you, along with complimentary breakfast and happy hour/party each afternoon. The location is ideal too — just a quick jaunt from Busch Gardens. It also offers a great pool, fitness center and all the amenities you could need including on-site laundry (always a bonus for family travel or extended stays). Learn more at embassysuites3.hilton.com. 
What to do
The city offers every sort of activity one can imagine, but there are some must–do's to fit into your stay. Nature, of course, plays a key role. And while you can soak it in along the Riverwalk, you can get up close to it and learn more in two great spots, the Lowry Park Zoo and the Florida Aquarium. Five-time winner of the TripAdvisor Certificate of Excellence (2010-2015), Lowry Park Zoo is one of the most popular zoos in the southeastern United States, with more than 1 million visitors annually. The zoo originated in the 1930s as a municipal department with a small collection of Florida native species. It grew throughout the next four decades. The mission of the zoo is "to connect people with the living earth," while promoting conservation, education, research and recreation, and by serving as a resource for the community regarding conservation and environmental matters affecting animals and habitats. Growing to what now encompasses 56 acres of naturalistic animal exhibits in a tropical garden setting, the zoo offers popular educational programming and fun recreational amenities, for which it has won accolades as one of the country's top family-friendly zoos. You can get close to 1,200 animals, and take part in special events, check out the zoo school and even ride a carrousel. Learn more at lowryparkzoo.org.

The Florida Aquarium is known as one of the top aquariums in the nation, where you can learn about the sea and get up close to it, and a place that treasures and protects the ocean and its inhabitants. With more than 20,000 animals at the
aquarium, including sharks and seahorses, you're sure to have an amazing aquatic experience. You begin your aquarium adventure on a Florida Wetlands Trail. Winding through a vast mangrove forest, you encounter river otters, free-flying birds and native fish. Continuing to the second floor of the wetlands gallery, you enter the Journey to Madagascar. Filled with ring-tailed lemurs, hissing cockroaches and colorful chameleons, this exhibit captures the unique island of Madagascar and the diverse animals that call it home. The next part on your journey takes you through Bays & Beaches, where you'll discover a goliath grouper and other species that live in Tampa Bay. Be sure to make a stop at Stingray Beach, where you can touch stingrays and sharks. (And if you are 15 or older, you can actually swim with the sharks).
There is so much more, including a penguin colony, a dolphin cruise and the Splash Pad, an outdoor water adventure zone. Learn more at flaquarium.org. At the Museum of Sci-ence & Industry, visitors will be amazed by this scientific playground that contains with more than 450 hands-on experiences. At MOSI (pronounced "mosey"), you can ride in the only driver-less car open to the public any-where in America, witness the future in 3-D Printing: The Exhibition and see 3-D printing live every day, experience an immersive film in Florida's only five-story-tall IMAX Dome theater, explore the stars in the Saunders Planetarium and have a blast inside Kids In Charge!  — the largest children's science center in the nation, complete with a simulated moon base funded by NASA.There's also a butterfly garden, zip line and ropes course. Learn more at mosi.org.
If you want to shop, eat and, yes, be entertained, you're in luck. One great spot is the amazing Ybor City, where you can dive into what was the center of the cigar industry. Today, you can still roll your own cigar there, take historic tours and much more. 
For great entertainment, you can count on the Straz Center for the Perform-ing Arts. From the current "Wizard of Oz," to head-lining illusionists, there's always something great to take in. Cabaret, comedy, Broadway, national shows and local stars all take the stage regularly. Tickets are easy to get ahead of time, and last-minute decisions can usually be supported. 
The Straz is also home to the Florida Opera Center, which will delight fans and where newbies to it can see up close why opera is an amazing art. There are Family Broadway nights as well, and a great array of dining choices on-site. Learn more at strazcenter. org. And while there's plenty of shopping all over, the local hub of shopping has to be Hyde Park Village, a must visit in Tampa. Hyde Park Village is comprised of six city blocks in the heart of the Hyde Park Historic District — one of Tampa Bay's most desirable residential areas. Since its first buildings were constructed in 1905, this landmark retail destination has been a cherished regional hub. It's home to a unique mixture of local, regional and national retailers, including Anthropologie, Juxtapose Apparel & Studio, Sprinkles, Kendra Scott, Brooks Brothers, Blue Moon Trading Co., Lululemon Athletica, CineBistro, Sur La Table, Bartaco, J. McLaughlin, Downtown Dogs, Piquant Epicure & Cuisine, Pottery Barn, Pottery Barn Kids, Salt Pines, West Elm, The Shade Store, London Philips and more. The village offers a variety of national, regional and local shopping, dining and entertainment essentials to the Tampa Bay community. With a beautiful fountain, brick walkways and majestic oak trees, it also provides an exceptional venue for the monthly Fresh Market held the first Sunday of the month. Learn more at hydeparkvillage.com.
Busch Gardens calls out to lovers of thrills and fun. The city is also considered the hub of craft beer in Florida, with two dozen breweries in Tampa, and a total of 40 within an hour of the city. Downtown is alive, particularly on "Fourth Fridays," when the streets come alive from 4 to 9 p.m. and museums are free.The Riverwalk offers water bike, paddleboard and boat rentals as well as a water taxi to zip you around in a most scenic way. The Ybor neighborhood in particular is known for being gay-friendly, and hosts one of the most popular pride celebrations in the country.You can catch Tampa in the movies, too — the soon-to-open major film "Infiltrator" was filmed there, as was Ben Affleck's upcoming "Live by Night."
With a Tampa trip, there will be no more FOMO for you — just for your friends who follow your trip with envy. Go to visittampabay. com.