11 Reasons You Must Try Tampa!
August 26, 2016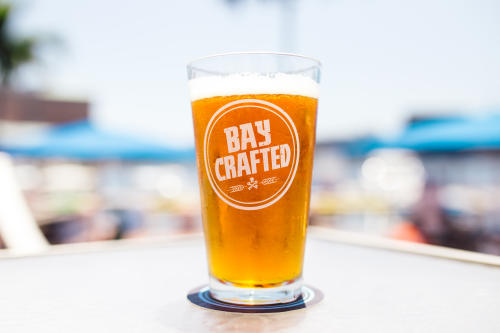 By ATD's Florida experts Susan & Simon Veness
It's a city that sometimes gets overlooked as visitors dash from Orlando to the Gulf Coast beaches (and vice versa), but Tampa is now a major attraction in its own right and we are big fans of spending time there.
Not only is Tampa a happening place purely in city terms – it has seen a lot of development in the past five years and that doesn't look like slowing down – it is popular with Hollywood, too, after featuring in the recent blockbuster The Infiltrator and the forthcoming Ben Affleck epic, Live By Night.
It is, of course, the home of the wonderful Busch Gardens theme park, as well as Lowry Park Zoo, the Florida Aquarium and the Museum of Science and Industry, but there is certainly more to Tampa than that quartet of attractions – much more. In fact, after a recent weekend visit to sample some of the best it has to offer, we have 11 top reasons to give Tampa a try.
1 – Cigar City Brewery
This is officially Beer City, USA, with 30 (count them, 30!) breweries all producing their own ales and ciders at a wonderful rate. It started in 1896 with the Florida Brewing Company but has mushroomed in recent years, with Cigar City Brewery leading the way. Established in 2008, CCB has become the gold standard for Florida beer-makers, with a fabulous range of regular beers, special releases and even nitro beers. Their best-seller is Jai Alai pale ale, but we sampled four other choices, of which the Goodnightmare Mekong (a Russian imperial stout) and Florida Cracker (a Belgian-style white ale) were superb. They offer regular brewery tours (Wed-Sun; $8/person, including samples and souvenir glass) and their Tasting Room is a great place to visit to sample the wares (11am-11pm).
2 – Renaissance Tampa International Plaza Hotel
Tucked into the excellent International Plaza shopping and dining centre (which boasts the likes of department stores Dillards, Neiman Marcus and Nordstrom, as well as the Cheesecake Factory and Capital Grille), this wonderfully chic hotel is not only a great place to stay for a sophisticated couple's weekend, but also inspired for food and drink. Main restaurant Pelagia Trattoria is a Mediterranean-style gem, while lobby bar Gabriella's serves up wonderful cocktails, including a range of Florida distillers. Their daily Cocktail Ritual (Mon-Fri) offers superb free samples of fresh-made drinks and appetisers.
3 – South Howard (that's SoHo to the locals)
This trendy district in South Tampa has boasted Bern's Steakhouse – a Florida institution – since 1956, but now features a wide-ranging assortment of bars, shops and restaurants that attract locals and tourists alike. You should definitely find time for Haven, a spin-off from Bern's, with fabulous cocktails, charcuterie and small-plate dining; the tastebud-tantalising patisserie Chocolate Pi, with its home-made pastries, sodas and coffee; and the outrageously fun 1920s style of Ciro's Speakeasy and Supper Club, where you have to know the password to get in!
4 – The Epicurean Hotel
Possibly the jewel in the SoHo crown is this foodie haven of a hotel that is both blissfully comfortable (the rooms are gorgeous and there is a food and wine-themed spa!) and truly sensational for lovers of haute cuisine and hand-crafted cocktails. Not only does it feature a theatre kitchen (for demonstrations and classes), the food in main restaurant Elevage is inspired, and rooftop bar The Edge is simply divine for evening drinks (and, yes, more cocktails!). The overall ambience is also so different and distinctive, we would strongly recommend this for anyone looking for a two or three-night grown-ups getaway.
5- The Brew Bus
To get a wider taster of the city's brewery world, we took the bus – the Brew Bus. This clever idea takes small parties on 3-4-hour tours of some of Tampa's top ale producers, with the chance to sample a good range of their products, all in the convivial – and safe – confines of their own bus. We visited the SixTen, Southern Brewing and Angry Chair breweries and learned a LOT about the local beer scene, while also sipping some distinctly fine beverages. Oh, and the Brew Bus has its own brewery HQ, too!
6 – Oxford Exchange
Looking for breakfast with a difference? Then head for this converted 1890s stable building (it was part of railroad baron Henry Plant's estate) close to downtown Tampa. This unique restaurant/bookstore/coffee house/gift shop is fabulous just to look at, but serves up great food in a distinctive environment that is a real one-off by any city standards. Open 7.30am-5.30pm (from 9am on Sat and Sun), it really excels at breakfast, when the array of choices include omelettes, sandwiches and flatbreads, plus some of the most heavenly pancakes you can find!
7 – Henry B. Plant Museum
After breakfast, head across the street to the unmissable former Tampa Bay Hotel (built 1892) that is now part of the University of Tampa as well as a museum dedicated to the railroad tycoon (one of the wealthiest men in the world at the turn of the century). It was home to the Atlantic Coast Line, which drew up right outside the Hotel for its wealthy clients. Among other period curiosities, the hotel boasted the first electric elevator in Florida and now offers a wonderful homage to the man who inspired this amazing level of grandeur.
8 – Le Meridien Hotel
Yes, Tampa really does have some wonderful – and individual – hotels, and this is another fine example. The former 1920s Federal Courthouse building, it has been sympathetically converted so that many of the rooms were former offices and judge's chambers, with some of the original doors, ceilings and marbled floors. It has Le Meridien's contemporary style – notably in the lobby, pool area and fitness centre – but retains its period charm and features another eye-catching restaurant in the chic Bizou Brasserie.
9 – Ulele and The Refinery restaurants
Did we mention Tampa is a real foodie city? It's hard to go far without tripping over somewhere to eat that has its own high-quality style and decadent cuisine. We had lunch at Ulele – the former city water plant, now lovingly given new life – and enjoyed a terrific array of traditional Floridian fare given a real modern twist, along with a range of local craft beers that underline Tampa's growing brewery claim-to-fame. Its riverside location is also idyllic on a sunny day (which, of course, is often!). For dinner, we headed to The Refinery in the Seminole Heights district, which is another area rapidly developing its food-and-beer culture. Here we sampled another variation on the farm-to-table culinary philosophy, where the menu changes on a week-to-week basis and features "blue collar beers." The brainchild of Greg and Michelle Baker, it has quickly become a local highlight and is another we would heartily recommend for that 'something different' factor (as well as the superb array of fresh veggies on the menu).
10 – Tampa eBoats
When you're ready to try something different, and get a good look at the city from the water, head to the downtown waterside (next to the Convention Centre) and drive your own boat, your own eBoat, in fact. eBoats Tampa is a unique operation, with a fleet of electric-powered water-craft that can take up to 12 along the Hillsborough River and into the Bay for a look at the cityscape, the elegant Riverwalk and the stunning mansions that line the coast hereabouts. You can hire the eBoats for 1-4 hours and then just poodle around to your heart's content. It's definitely life in the [i]slow[/i] lane, though – the boats do a maximum of 6mph!
11 – Ybor City
We finished up with half a day exploring the former Cigar Capital of the World, which is a story in its own right. You could easily spend two days here and not see everything. For our visit, we hooked up with tour guide Dr. Wally Reyes at the Ybor City Museum and spent several hours learning the fascinating background to this Cuban/Spanish/German/Italian-founded neighbourhood (which will be part of Ben Affleck's film), where they produced a staggering 53,000 cigars a DAY in the 1890s. We had lunch at The Bricks, an eclectic emporium of hearty food, fine coffees, craft beer and, yes, more cocktails, and then visited another of the area's main features at the huge Coppertail Brewing, where we took the tour, sampled some more (excellent) beer and left feeling this is a real Aladdin's Cave for ale-lovers. Just to round out the experience, there was still time to visit Florida Cane Distillery, where small-batch vodkas and moonshine are their speciality, and Cigar City Cider & Mead, yet another variation on a delicious home-brewed theme.
Ready to try it yourself? Be sure to check out the visit Tampa Bay website for all the details. Us? We're just going for a little lie down…!