Holiday Inn Express & Suites - Busch Gardens/USF
Preferred hotel of Busch Gardens and USF, approximately a mile from USF and a half mile from Busch Gardens. Our brand new hotel features interior corridors, microwave, fridge, and wireless internet. A complimentary breakfast is served daily.
Business Technology
Business Center
Free Internet Access in Room
Free Wireless Internet Access in Room
Internet Access in Meeting Rooms
Wireless Access in Meeting Rooms
Dining & Entertainment
Complimentary Daily Breakfast
General
Hotel Type:

Full Service

AAA Rating:

Three Diamond

Credit Cards Accepted

American Express
Mastercard
VISA
Discover
Diner Club

Accept Long Term Stays
Cancellation Policy:

24 hour notice except special events.

Check-In/Check-Out Policy:

Check-in: 3pm Check-out: 12pm

Number of Sleeping Rooms (Include Suites):

123

Number of Suites:

24

Number of Kings:

32

Number of Double/Double:

91

Number of Handicap Accessible Rooms:

8

Kitchenette
Number of Committable Rooms:

123

Number of Elevators:

2

Number of Floors:

4

Total SqFt Indoor Meeting Space:

700

Food & Beverage:

Multiple full serivce restaurants within walking distance.

Other Amenities:

Free limited shuttle service to Busch Gardens and Adventure Island.

Total Sq Ft Meeting Rooms:

700

Total Sq Ft Largest Meeting Room:

700

Number of Meeting Rooms:

1

Green Lodging Certification
Film Friendly Hotel
Water CHAMP Hotel
Health & Beauty
In Room Amenities
Cable TV
Iron/Ironing Board
Hairdryer
Coffee Maker
Number of Telephones:

2
Parking Facilities
Total Number of Parking Spaces:

131

Self Park
Motorcoach Parking
Recreation
Transportation Services
Courtesy Area Shuttle Service
Miles from Tampa International Airport:

12

Miles to Tampa Convention Center:

10
Business Info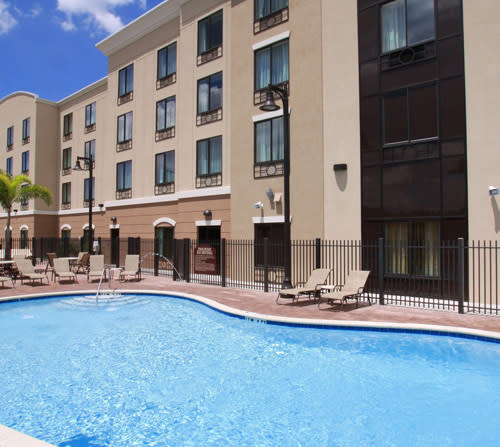 Welcome to the Holiday Inn Express & Suites Busch Gardens! This hotel is the closest in the area to Bush Gardens and Adventure Island; it is located only 15 minutes away from Tampa International...