Tampa Bay's Spirited Side
Uncovering the city's chilling and thrilling tales on a ghost tour
By Susan B. Barnes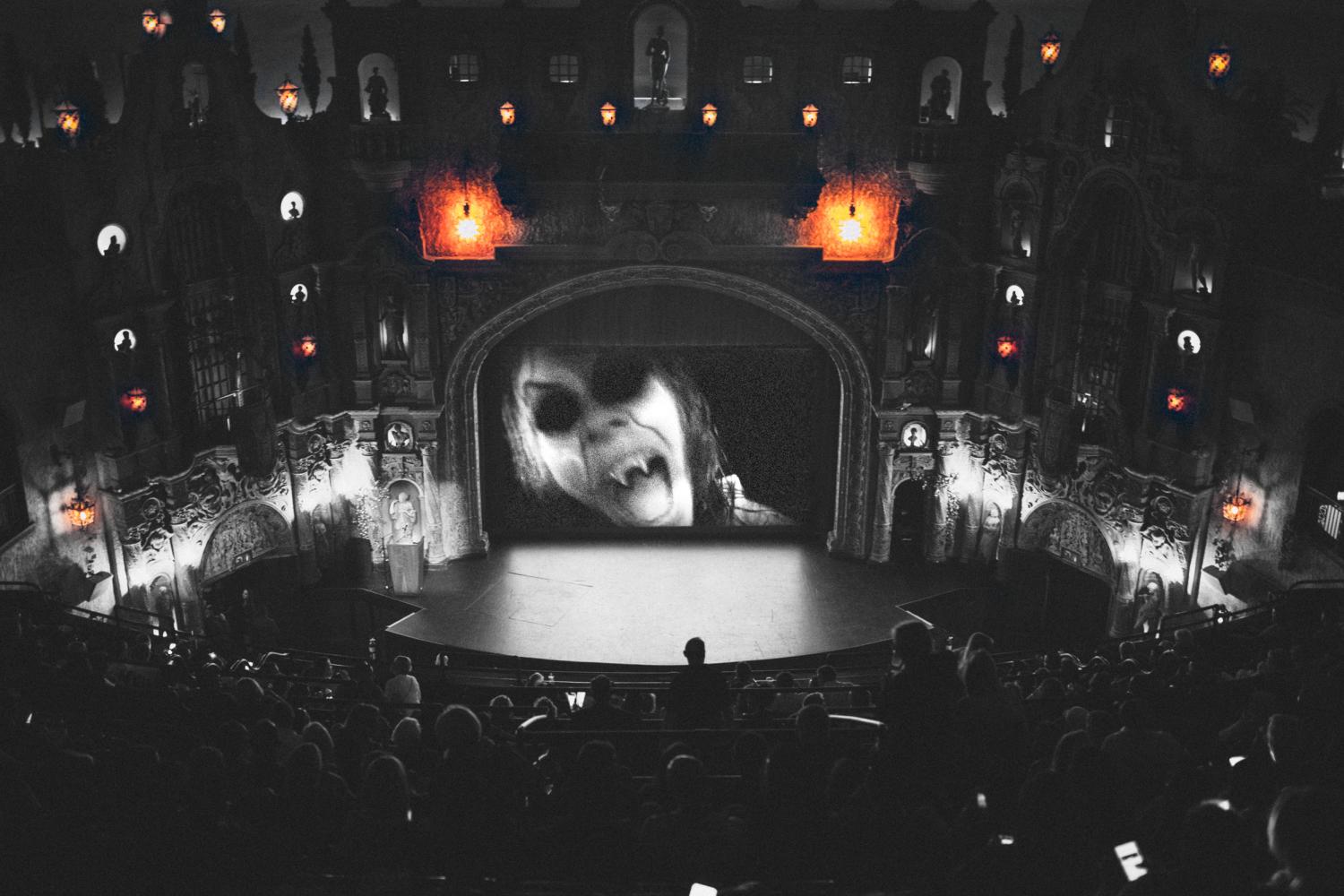 The Tampa Theatre gets a little spooky at night.
Dark shadows start their gradual crawl over the city as the sun sets on downtown Tampa. My friends and I rush to meet up with a small group from Ghost Tours of Tampa as the clock strikes 8 o'clock. We had not been on a ghost tour in a while, and we were ready for some spirited action.
Late last year, I went on my first haunted tour of Tampa Bay with Ybor Ghost Tour in historic Ybor City. We ventured into buildings that held the most haunting stories and sightings. At one point, in an old social hall, I'm pretty sure some of my friends encountered the spirit of a young boy who liked to play with visitors—they said they sensed a presence nearby, but couldn't see anything. Was it the boy? We couldn't be sure, but with that supernatural encounter, we were hooked!
This time, my friends and I were led by Deb from Ghost Tours of Tampa, who would spend the evening walking us through the streets of downtown Tampa and revealing the eerie stories they hold. Before we began, Deb disclosed that all of the ghost stories she would share throughout the evening were indeed true.
All the world's a stage…for ghosts
Just a few blocks from where we started, we arrived at the first haunted spot—the Tampa Theatre, built in 1926. My husband and I have gone to the theater many times and have seen several movies and performances inside its historic walls, so I was interested to hear about the spirits with whom we may have enjoyed those shows.
Deb told us about Rosa Rio, the organist who played the theater's Mighty Wurlitzer organ until taking her final curtain call at the age of 107. Since her passing, several instances have convinced theater staff and guests to believe she's still lingering about. There was the time when the theater manager accidentally stepped back into the hole from which the organ ascends during performances. She should have fallen directly on top of the organ, but the manager is confident that Rosa guided her fall so as to not damage the instrument Rosa loved so much. During quiet times in the theater, some hear organ music and believe Rosa is still playing today. Our group looked nervously at one another, wondering if we'd hear ghostly notes float into the still night air.
Deb also shared the story of Foster "Fink" Findley. Fink was the theater's first projectionist, and he had a penchant for smoking in the projection booth. Fink has long passed away but some can still sense his presence—he roams the theater, lighting up and enjoying a cigarette at will. Sightings include cigarette smoke billowing out of the projection booth when the door is opened; and the back two rows of the balcony nearest the projection booth smelling like smoke and lilac aftershave, Fink's signature scent. As we walked by the theater, I'm pretty sure I saw some of our fellow ghost-seekers sniffing the air to see if they could detect Fink's spirit enjoying yet another cigarette.
A railroad tycoon lingers
If you look closely, you might just see the face of the railroad tycoon past. 
From the Tampa Theatre, we walked down the Tampa Riverwalk and looked across the water toward the University of Tampa and the Henry B. Plant Museum. The museum was once the Tampa Bay Hotel, built by railroad tycoon Henry Plant in 1891 to accommodate passengers traveling to Florida. Now, it's part of the university.
As we gazed at the buildings across the river, Deb shared stories of students and faculty seeing visions of a tall gentleman in bib overalls and work boots pushing a janitor's cart through the museum's hallways. Also, students studying in empty classrooms would hear someone joining them: an open door, the sound of footsteps in the room and someone sitting down, only to turn around and find no one there—at least to the naked eye.
Perhaps the most chilling of Deb's stories, however, was the one of The Brown Man, seemingly Henry Plant himself. He appears in an old-fashioned brown suit with long, white hair, and if anyone acknowledges his presence, he'll rush right up to their faces only to disappear before his "victims" have the chance to react. In fact, The Brown Man can be so aggressive that many professors and staff of the Henry B. Plant Museum avoid making eye contact with him to avoid confrontation.
Stories from the bookstore
As we meandered back toward our starting point, we stopped in front of the Old Tampa Book Company, formerly a tailor's storefront. According to the bookstore's owners, bloody shears were found on the floor one day and chairs from a previous owner move on their own. Deb mentioned that oftentimes, people who take pictures of the storefront find ghosts in their photos, including a man in a top hat and a woman who seems to be in pain. Naturally, we were intrigued and had to give it a go for ourselves.
While I didn't see anything ghostly in the photos I took, my phone did repeatedly turn off when I tried to look at them. At first, I thought I must have hit a wrong button and turned the phone off accidentally, but when I tried to look again at the photos, the phone turned off on its own. At that point, I'm pretty sure it wasn't me operating the phone. Of our group, a friend captured a photo with a white streak along the bottom. What it could be from, we weren't sure.
Our evening with Deb and Ghost Tours of Tampa was not only fun and a bit scary, but filled with the city's history. Next time, we'll be joining another tour, Haunted Tampa, to hear even more chilling tales about Tampa Bay, and the spirits that linger long after their bodies are put to rest.
Whether it's scary tours or scenic boat trips, Tampa Bay has a tour for that.