TAMPA HOSTS COLLEGE FOOTBALL'S BIGGEST GAME
With the College Football National Championship at a close, we can all take a deep breath and bask in the glory that was this weekend's storybook ending.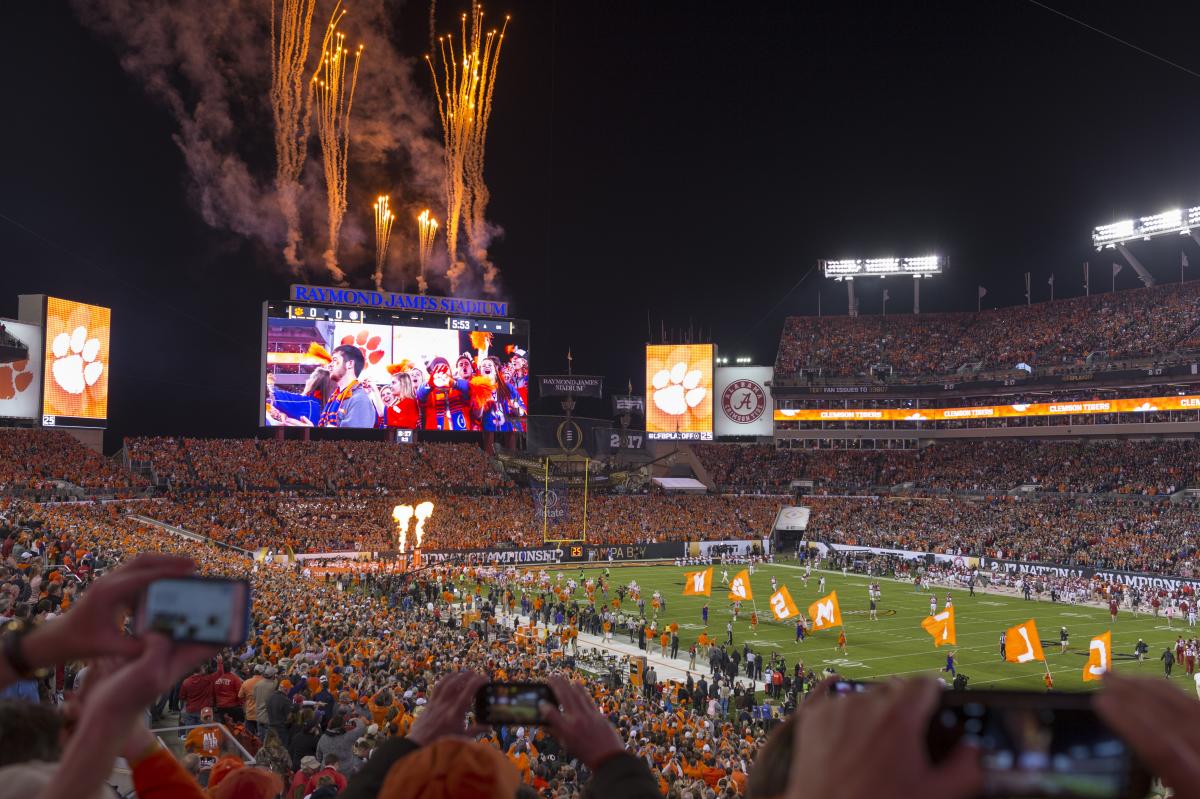 Fireworks launching as the University of Clemson team is announced
With a 7,000 page proposal back in 2013, the Tampa Bay Sports Commission successfully won the bid for the Championship game. With years of hard work all coming down to the wire, the results were outstanding and the city can now rejoice on a phenomenal compilation of events that transformed the Tampa Riverwalk, downtown, Channelside, and Raymond James Stadium.

Seas of crimson and orange filled the streets, hotels, restaurants, and inevitably set the stadium occupancy record at 74,512. The Tampa Riverwalk was the headquarters to everywhere you would want to be for the events over the weekend. Starting at the Tampa Convention Center with a massive Fan Central extravaganza for people of all ages, the area also hosted the Extra Yard for Teachers Summit. The event boosted education across the country in addition to supporting the teaching profession.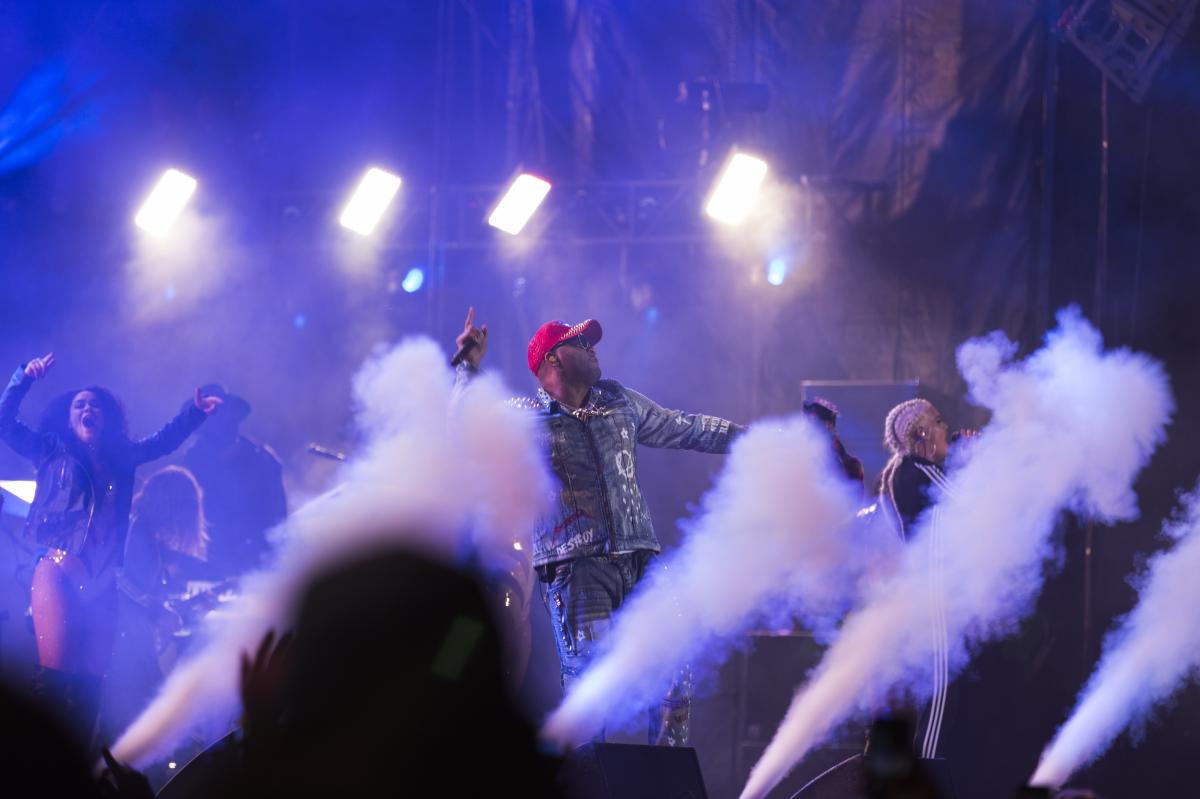 Flo Rida performing on Saturday night at the Playoff Playlist Live
Once outside the Convention Center, the Gasparilla pirate ship loomed on the horizon amongst a lineup of extravagant yachts at the Yacht Village. Further down the Riverwalk was a desert-military-themed outpost with a full helicopter parked in the middle. Walking a few more blocks along the Riverwalk, the Playoff Playlist stage at Curtis Hixon Waterfront Park hosted the likes of the Cold War Kids, Flo Rida, Gavin DeGraw, and Usher. The crowds for the concerts poured over into Ashley Drive. 

And if all that wasn't enough for you, the Championship Tailgate would surely satisfy your partying needs before the game. From ziplines to miniature football fields to another giant stage featuring Dierks Bentley, the tailgate had it all. The packed fields outside soon filled the stadium to record capacity, all of whom were in for a treat of a game. The night opened with an outstanding showcase by the military parachuters, a flyover by two V-22 Ospreys, and a fireworks-choreographed entrance by the teams. The final act of the night was the game itself, and if you haven't seen the highlights, we strongly recommend you watch them. The game was a nail-bitter the whole way, leading to a last second touchdown win for the Clemson Tigers. 

Fans from both teams preached about their experiences in Tampa all weekend. A Clemson family interviewed by the Tampa Bay Times said they thought of Tampa as a "dirty, rundown city," but since visiting this weekend changed their opinion, saying "It has a nice feel to it, Tampa's got it going on. I would vacation here."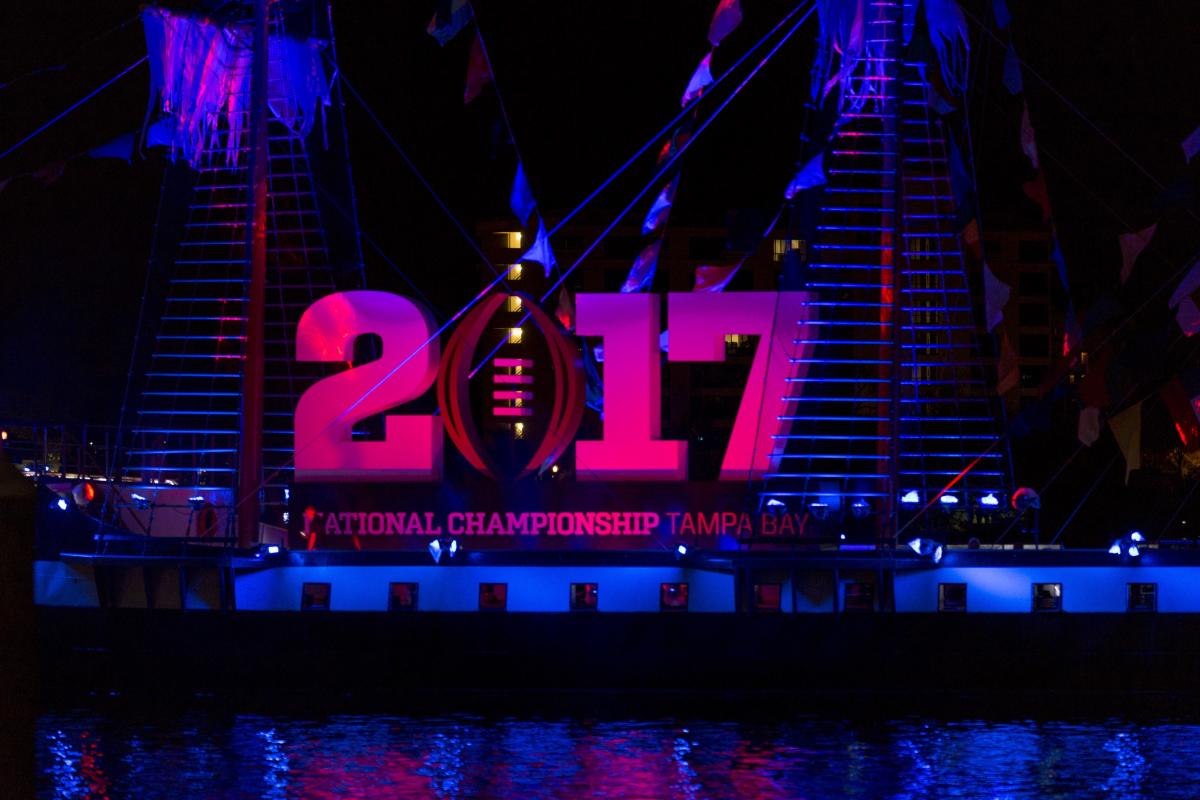 The Clemson Santa Claus, Tony Adams, (if you were at the game, you would've seen him on the big screen) raved about his time here: "Everywhere we've gone the folks in Tampa have just rolled out the red carpet," Adams said. "We painted the city orange and it paid off so thanks a lot to Tampa."

And to top it off, Bill Hancock, the executive director of the College Football Playoff said "The energy in the entire community is awesome. Not to get too melodramatic, but there's something special about the heart, the soul, the warmth, whatever you want to call it, they've got it here.''
The Tampa Bay Sports Commission is bidding on the College Football Playoff once again in 2021, hopefully becoming the first destination to host the game twice. To learn more, check out CFPFirstSecond.com
Watch CFP's Thank You Video to Tampa: