Hey everyone! Jerm here with an awesome update for you on an event coming soon to a Tampa Bay dining establishment near you! Working in conjunction with the the Florida Restaurant & Lodging Association, Tampa Bay & Company proudly presents
Dine Tampa Bay 2010
!
DINE Tampa Bay Restaurant Week 2010 will run from Sunday, Aug. 29 through Monday, Sept. 6 - Restaurant Week diners can take advantage of amazing deals at many of the Tampa Bay area's finest restaurants.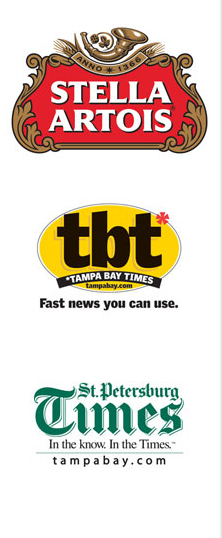 What kind of deals you may ask? Participating locations will showcase their fare by offering either $25, $30, or $35 prix fixe three-course menus (appetizer, entrée and dessert) throughout the week.

Prices are per person and exclude beverages, tax and gratuities. At present there are about 40 Tampa Bay area restaurants participating and we are adding to that list
Diners can choose from old favorites to the latest culinary hot spots, nationally known chain restaurants to local chef owned bistros, Asian or Spanish fare to Italian, fondue, tapas and sushi, and from the award-winning restaurants of downtown Tampa to the gourmet gems on the beaches.
This annual event will offer visitors, convention attendees and local residents the opportunity to experience Tampa Bay area fine dining restaurants at a value price and expose new customers to the wonderful dining options that are available.

Special thanks go to our awesome sponsors for this event which include: Stella Artois, Tampa Bay Times (TBT), St. Petersburg Times, The Melting Pot, and Grillsmith, for helping us to put this awesome event together!

Be sure to check out the new Dine Tampa Bay 2010 Website at www.DineTampaBay2010.com to find out more about the event as well as see all of the participating restaurants, featured chefs, recipes, Facebook updates and more!

That's all for now folks, but check back for more dining related Tampa Bay area events and foodie things to do in Tampa Bay!