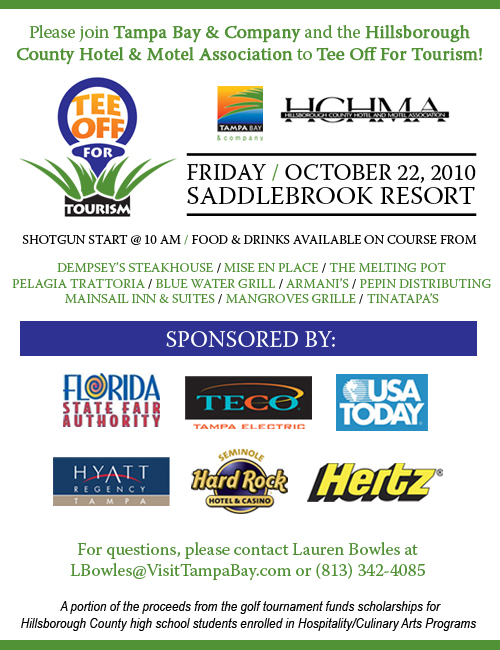 Woah there, watch out for that wayward shot! Lisa back, with an update on Tampa Bay Area Events!
It's that time of year again! The annual Tee Off For Tourism is upon us. We (Tampa Bay & Company) are partnering with the Hillsborough County Hotel And Motel Association to host this years event.
Tee Off For Tourism will be held at one of the famous Tampa Bay Resorts;
Saddlebrook Golf Resort
in North Tampa. The event is THIS Friday October 22nd. The festivities start at 10am and last until 8pm. This is one amazing opportunity to Golf Tampa Bay, at a course designed by golf legend Arnold Palmer (not the beverage!). The setting could not be more perfect, for what is sure to be a fun day.
Of course we wouldn't host a golf tournament without food and prizes. There will be food there from Dempsy's Steakhouse, Armani's, Blue Water grill, Latitudes Pub and Grill, Mangroves Grille, Mise En Place, Pelagia Trattoria, The Melting Pot, TinaTapa's, Pepin Distributing, J.J. Taylor, Coastal Wine & Spirits, Southern Wine & Spirits, and Premier Beverage Co.
Other sponsors such as Hertz, Tampa Electric, Seminole Hard Rock and Casino, Florida State Fair Authority, Hyatt Regency Tampa and USA Today will also be there hosting different contests throughout the course! This is not your typical tournament!
Not only will the golfers be trying to avoid the sand traps and rough, but they will also be helping the Tampa Bay hospitality industry. A portion of the proceeds from the tournament fund scholarships for Hillsborough County high-school students in the Academy of Tourism/Travel/Hospitality program.
Whether your style is that of Happy Gilmore, Ty Webb or Al Czervik. There is still space for you at this years
Tee off for Tourism
! So drive on up, and join us for this great occasion! 
That's all for now, but check in later for more Things To Do In Tampa Bay!