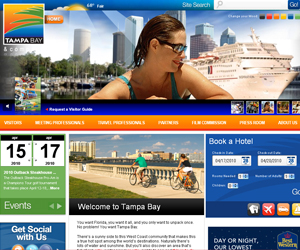 Hello gang! Jerm here with a long awaited yet super exciting update for everyone.
I have been promising you for the last few weeks that you would see something new and improved on
our website
, and its finally here! Well it actually launched a week ago, but I wanted to make sure that all the bugs were worked out post launch for you guys.
We took all of the feedback from user surveys, plus took a good hard look at Google Analytics to see how and where people are navigating on the website. We then tweaked the navigation, added some color, and a few more tidbits and voila! Here are some of the main features of the new site (without going into great detail).
Better Navigation & Overall Look and Feel
More Control Over Web Site
Better Optimized for Search
Widgetize Me!!!
Enhance Banner Advertising Programs
Give it a look see and let us know what you think by leaving a comment below! That's it for now, but stay tuned in for more updates from your Tampa Bay team on website updates and things to do in Tampa Bay!