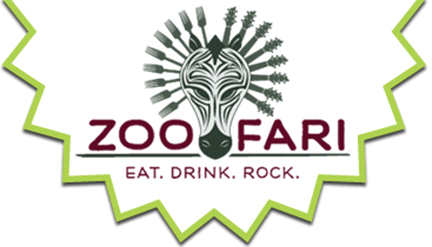 It's that time of year folks, when one of Tampa Bay's most awesome attractions brings together three things that I love more than anything:
Food
Music
of Course, Adult Beverages
That's right guys its Zoofari time at Tampa's Lowry Park Zoo! If you haven't had the pleasure of having attended Zoofari in the past, then let me tell you that this year's even is one that you won't want to miss!
There is going to be so much food this year, It would take me a week to tell you all about them! Here is a brief list of just some of the Bay area's top restaurants participating:
A Smokin' Salamander
Art Institute of Tampa
BJ's Brewhouse
Blondie's Cookies
Blue Bell Creameries
Brunchery Restaurant & Catering
Bubba Gump Shrimp Co.
Byblo's Cafe
Catarinas Couna y Galeria
Centre Club
Chantilly Cakes
Chef on the Bay
China Mist Tea
CineBistro Hyde Park
Datz Deli
Empress Tea Room
Evos
First Watch
Hooters
Now don't get me wrong, as this years event isn't just one to go and stuff your face (although I will be doing plenty of that), there will be plenty of music, as well as local artiest and their work on display!
This year's musical guest will include:
Big Bad Voodoo Daddy (TD Bank Mainstage)
Halcyon - TD Bank Main Stage Opener
Gumbo Boogie - Carousel Area
New Groove City - Wallaroo Station Sweet Safari
Shaun Hopper - VIP Rhino Club
Betty Lou Fox & the Dirty Bastards - VIP Rhino Club
As you can imagine this will be one of the hottest tickets in town, so be sure to head to the website and purchase your tickets now!
Also, be sure to be paying attention to us this week on Facebook & Twitter, as well will be doing a ticket giveaway of some sort for one lucky winner and a guest!
That's it for now, but be sure to check back later on in the week for a chance at some tickets and more updates on things to do in Tampa Bay!