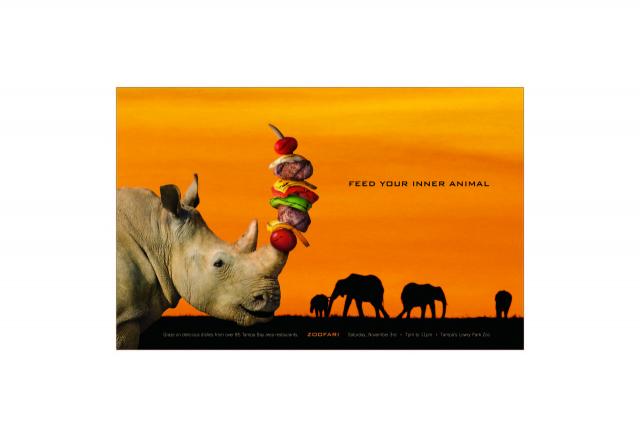 Hello all Zoofari lovers out there, Lisa back with part 3 of the
Zoofari
blog series! Today's topic like I promised is FOOD and drink (my second favorite).
There are bars located in each food area, and there are 5 food areas. Anyone else figure out what that means? Yeah, 5 bars! This years bars are sponsored by GrillSmith, New American Cuisine, CK's Produce, Pepin Distributing, Premier Beverage, Southern Wine & Spirits, Sysco Food Services and National Republic Distributing. I am positive they will be able to handle any drink request you make.
As I said there are five different food area's, each located in a different place throughout the Zoo. This helps everyone to be able to enjoy all of that awesome Tampa Bay Entertainment I was talking about yesterday.
First you have the Manatee Fountain Circle Red Food Area. And in that area will be selections from some of our favorite Tampa Bay Dining such as, Ceviche, Howl at the Moon, The Melting Pot, Tijuana Flats; the list literally goes on for two pages, each restaurant sounding better than the next.
After you check out the Manatee selection, there is the Carousel Yellow Food area. They will have Five Guys Burgers and Fries, Shamrocks Ale House, Timpano Chophouse and about 10 others. Everything sounds SO GOOD!
Moving onto the Garden of Love Orange Food area there will be LaFrance, The Ritz Ybor, Beef O'Brady's and other favorite places of Tampa and Ybor City.
With all of this amazing food, there has to be dessert right? RIGHT! They have the Sweet Safari Wallaroo Station Blue food area. This includes Cakes Plus, Edible Arrangements, First Watch, Just Eat Cookies, and maybe 15 other amazing places.
Lastly for the Rhino Club VIP ticket holders, there will be food from Kona Grill, Lindt Chocolate, Mitchell's Fish Market, The NoHo Bistro and quite a few others. It really does pay to be a Rhino for
Zoofari
.
Overall the food selection is OUT OF THIS WORLD. And if you were ever wondering Where to Eat in Tampa this would be a great way to try some of the best!
Tomorrow is the last installment, and that will be all about the little details and some frequently asked questions. So stay tuned for more Tampa Florida News updates!