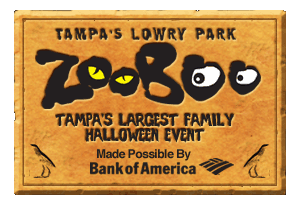 Hey there friends! I know you all have been patiently waiting for the chance to win tickets to
Zoo Boo at Tampa's Lowry Park Zoo
for tomorrow or Friday night! You and your family can be the first to experience Tampa's largest family Halloween event this weekend, but first you gotta answer some TRIVIA for me!
As promised yesterday we have a 4-pack of tickets up for grabs today so I am hoping that you brought your trivia hats today folks!
Here is a refresher on the way the giveaway will work. Instead of re-tweeting, just answer the question(s) on
Twitter
.
Once you do that you will be entered in to win, as we will randomly draw two names.
For those of you playing on Twitter and who choose to re-tweet, it does indeed increase your chances of winning.
I draw names from the first 10 correct answers, so make sure you get the correct answer to play! Around 6pm, I will announce the winners!
Let's hop right into it! All I need you to do is answer three questions about the
Zoo Boo and Tampa's Lowry Park Zoo
.Who knows, maybe I'll even stump you guys again today like I did last time! Enough of me rambling on though, lets hop right into it:
Name one of the three family favorite Zoo Boo attractions.
Where is the Flying Fox / Bat House located at Zoo Boo?
What is the skull rating for the Pharaoh's Tomb of Revenge?
Now if you didn't win today, have no fear as ZooBoo will be open all month long in October on select weekends!
Check out the website
for more info, and be sure to check back with me for more Halloween related updates on Tampa Florida attractions and things to do in Tampa Bay!