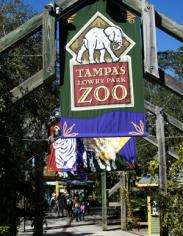 And we're back with more information about Tampa Bay area events!  And let me tell you, if you are looking for things to do in Tampa Bay this weekend, then you have to make your way out to this famous Tampa Attraction - Tampa's Lowry Park Zoo!
This weekend the zoo is hosting its Fourth Annual Zoo Zoom, it's annual 5K fund "racer."  And, here are some details in case you want to attend -
Don't miss the stampede this Saturday, March 7th as Tampa's Lowry Park Zoo hosts the fourth annual spring 5K fund"racer",  Zoo Zoom.  The race begins winding through the Zoo, giving participants a glimpse of rare and native animals. Then, runners are taken along the beautifully scenic Hillsborough River and met with cool refreshments at the finish line. Race entrants receive one complimentary admission ticket to enjoy the day with more than 2,000 animal residents. Zoo Zoom registration forms will be accepted until the day of the race and are found at LowryParkZoo.com under "Calendar of Events". 
Plus, you can call 813-935-8552 Ext. 239 or visit LowryParkZoo.com to get more details about the event. 
Now, if that isn't some great Tampa Bay entertainment, then I don't knwo what is!  Plus, you'll be able to experience just some of the Tampa Bay sports activities that we all enjoy throughout the year. 
So, head on out, enjoy some of this beautiful Tampa Bay weather, and let us know how you did! 
And keep checking back for more updates about what's happening around Tampa Bay!