It's that time of year again to lace up your sneakers and run to Tampa's Lowry Park Zoo for the 7th annual Zoo Run Run fund-racer! Hi everyone, Gahiji (ga-HEE-jee) the cheetah here to tell you about one of my favorite Tampa Bay area events.
Zoo Run Run
is a 5k walk/run that takes racers on an exciting path through the Zoo and along the Hillsborough River. The fun begins Saturday September 12, 2009 at 8 a.m. (check in 7-8 a.m.). Children under 11 can also be a part of the fun during the ½ mile "Fun Run" at 9:15 a.m.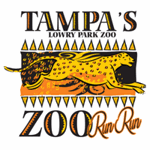 As a cheetah, I naturally have everything I need to run – large nostrils, great lungs and a larger than average heart all working together to quickly provide oxygen. My brother, Chaka (SHA-ka), and I don't like to brag too much, but we are faster than most super cars – including a Ferrari. Don't worry though; we'll leave the 5k fun to our human friends. Even if you can't go from 0-60 mph in 3 seconds like we can, it's fun exercise in the great outdoors for walkers, runners or sprinters. Plus, all participants receive free admission to the Zoo following the race. 
Register by FRIDAY, AUGUST 28 to also receive an extra ticket for a guest or to use on a different date. There will also be refreshments at the post-race reception and awards for the top 3 finishers.
After you've registered for Zoo Run Run, keep an eye out for different tips and suggestions on preparing for the 5k run/walk on our
Facebook (Tampa's Lowry Park Zoo)
and Twitter (
@LowryParkZoo
) pages.  Be sure to stop by after the race and say hello! You can visit me in the Ituri Forest area of Safari Africa, normally in the afternoons, where I often lounge inside the tunnel to stay cool. See you then!
Click HERE
for the Zoo Run Run registration form and stay tuned for more zoo related things to do in Tampa Bay!