Hello Tampa Bay, Alex here to let you know about a musical, performed by students in grades five through eight, coming to the David A. Straz, Jr. Center for the Performing Arts this April!

The Patel Conservatory Youth Theater will be presenting the musical Once Upo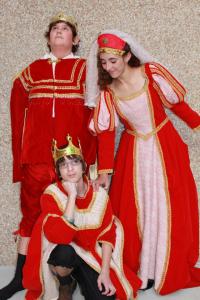 n a Mattress, April 12-14 and 19-21 in the TECO Theater.
Once Upon a Mattress is the hilarious musical adaptation of the Hans Christian Andersen fairy tale, The Princess and the Pea. Unexpected twists and turns keep the audience guessing, in this freshly updated version.
The story of Once Upon a Mattress follows Princess Winnifred as she arrives at Prince Dauntless the Drab's castle and hopes to marry the prince. The prince's mother, Queen Agravain, insists that her son marry a true princess, who would feel a pea underneath a pile of mattresses. The test begins and true happiness follows. This rollicking spin on the familiar classic of royal courtship and comeuppance provides for some side-splitting shenanigans, all the while interspersed with toe-tapping songs and uplifting melodies.
This musical will be fun for the entire family!
Once Upon a Mattress runs April 12-14 and 19-21, Thursdays and Fridays at 7 p.m. and Saturdays at 2 and 7 p.m.
Hurry and purchase your tickets today! Regularly priced tickets, now through March 29, start at $12. Beginning March 30, regularly priced tickets start at $15. Tickets may be purchased by calling 813.229.STAR (7827) or 800.955.1045 outside Tampa Bay, in person at the Straz Center Ticket Office or online at www.strazcenter.org.
Enjoy the show! Check back often for more information on Things To Do In Tampa Bay!