As always, we are bringing you the best things to do in Tampa Bay, and the best Tampa Bay area events you've ever seen.  From the Super Bowl in Tampa Bay, to where to eat, what to do and the best Tampa Bay nightlife, you can count of us to give you the details. 

Ok, the Florida Strawberry Festival opens up today in Plant City, so we are going to bring you daily (hopefully) updates about what's happening at the 74th Annual Florida Strawberry Festival.  So, straight from the folks in Plant City, here we go -

Day One is Senior Citizens' Day, so for visitors 60 years of age and better, that means saving $2 off the gate admission of $10 all day. At 10:30 a.m., "the Polka King" Jimmy Sturr & His Orchestra will be performing in a free concert on the GTE Federal Credit Union Soundstage. 

In three daredevil shows today, Bikes Boards and Blades will be performing action-packed excitement in pro bicycle, inline and skateboard stunts. Just inside Gate 14, the new tents will afford Festival guests wider aisles and more room to spread out as they visit with youth livestock exhibitors and see the animals. The pigs that are in there today are just about as adorable as they come.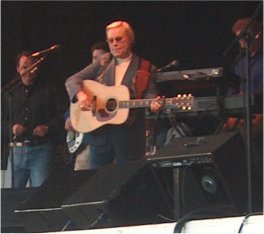 The Belle City Amusements Midway opens at noon today, and this year for the pre-schoolers, grade schoolers and the stroller set, the entire Kiddie Corral area has been expanded. It's completely separate from the big boys and has more delightful, age appropriate rides than ever.

There are still good seats available for both the 3:30 and 7:30 pm concerts on the GTE Federal Credit Union Soundstage too.  At 3:30 pm it's George Jones, and reserved seat tickets $15 and $20; and at 7:30 p.m. it's Larry Gatlin & the Gatlin Brothers in concert, and those reserved seat tickets are $10 and $15.  Tickets may be purchased at the stadium ticket office adjacent to the east side of the bleachers.

Of course, the St. Clement Catholic Church Make Your Own Strawberry Shortcake booth will be open all day!  In the main Expo Building, it's a chance to get a heaping helping of the succulent berries with a biscuit or cake, piled high with plenty of whipped cream.

And just remember that the Florida Strawberry Festival runs through Sunday, March 8.  Head over to www.flstrawberryfestival.com to get more details. 

Ok everyone, there's day one's update...so stay tuned as we get through the Strawberry Festival, and bring you the best things to do in Tampa Bay...and in Plant City!