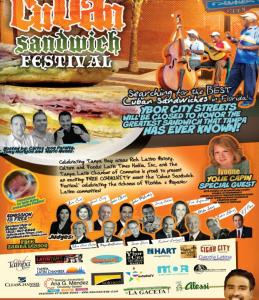 Hi Tampa Bay! Erica here to invite you to a mouth-watering showdown. That's right. It's the Latin Times Media Inc., and the Tampa Latin Chamber of Commerce's Cuban Sandwich Festival at the Ybor City Saturday Market.
On Saturday May 26, this FREE community event will challenge restaurants from all over the bay area to compete to win the best Cuban Sandwich title. Considering the Cuban Sandwich evolved in Ybor and is one of the city's most treasured traditions, the competition will be fierce!
The family-fun festival will also include over 50 food, art and cultural exhibitors; live cultural musical and dance performances; a Kidz Zone featuring: clowns, jump houses, face painters and much more!
Are your Cuban Sandwich friends competing? Some of the contestants include:
Alessi Bakery
Cacciatore Brothers
Cafe Masaryktown
Cuban Guys
Danny's All American Grill
Franks & Subs
Gaspars Grotto
Kooky Coconuts
La Teresita
Mata Monchies
Metropolitan Ministries
Michelle Faedo's Food Truck
Mr. Empanada
Nita's Place
NY Cafe- Pinellas County
Ofelia's Café
Ronnie Pastrami's
Stone Soup Company
Silver Ring Café
Floridian
Although admission is free, donations will be collected at the community help booth for a six-month baby, Emberlynn, diagnosed with congenital diaphragmatic hernia.
Come out and show your support Tampa Bay, from 10:30 AM to 4:30 PM. Don't forget your appetite! That's all for now, but stay tuned in for more updates on things to do in Tampa Bay!