Hey everyone! Its Pub Crawl time in Ybor City! Our friends over at the The Ybor Chamber are launching  their 1st OktoberFest Pub Crawl Saturday, October 2nd.  This special event will be held from 4:00 to 8:00 PM, starting in the Centro Ybor courtyard and proceeding through the Historic District.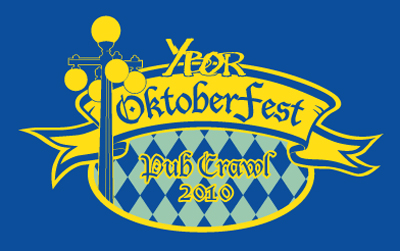 Each guest will receive an official Ybor OktoberFest t-shirt and a map of participating pubs and patio bars.  Each of a baker's dozen of participating venues will provide a free 4 Oz. sample of premium beer to participants. 

Establishments along the way will also have German music, food,  door prizes and drink specials.
Tickets for OktoberFest Crawl are $20 and include an event t-shirt, logo sample cups, and special activities at each venue. 
Walk-ups welcome! Check out the list of participating pubs and be sure to get your tickets in advance! See you at the bar, and be sure to stay tuned in for updates on things to do in Tampa Bay!
Bars & Pubs Scheduled to Particpate
The Bricks (1327 East 7th Avenue)
Crowbar (1812 North 17th Street)
The Dirty Shame (1929 East 7th Avenue)
Double Decker (1721 East 7th Avenue)
Gaspar's Grotto (1805 East 7th Avenue)
Green Iguana (1708 East 7th Avenue)
Hamburger Mary's (1600 East 8th Avenue, Suite E202)
Market on Seventh (1816 East 7th Avenue)
New World Brewery (1313 East 8th Avenue)
Reservoir Bar (1518 East 7th Avenue)
Rock-N-Sports (1600 East 8th Avenue, Suite E200)
Streetcar Charlie's (1811 North 15th Street)
Tampa Bay Brewing Company(1600 East 8th Avenue, Suite A123)