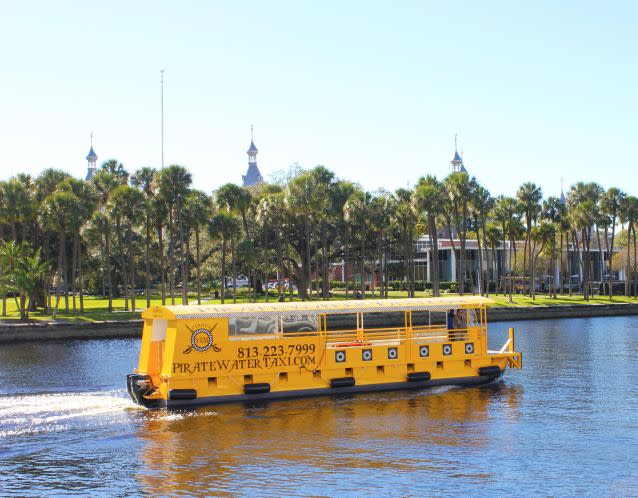 Just a week after Gasparilla, Yacht Starship Dining Cruises has announced its launch of pirate-themed water taxis in downtown Tampa. The three 50-foot water taxis will operate 7 days a week with over 14 stops conveniently located along the Riverwalk, Channel District, Harbor and Davis Island. Each taxi holds between 40 to 50 passengers and offers restrooms, concessions and a whimsical historical narration. There will be a grand opening celebration on Friday, Feb. 26 at 5:30 p.m. at the Tampa Convention Center where the traditional christening and naming of the vessels will occur. 
Troy Manthey, a 5th generation passenger boat operator, has had visions of a Tampa water taxi since he first established Yacht Starship back in 2001. The three taxis are named after Manthey's three children: Captain Jack, Pirate Pat and L'atitude Lindsey. 
"We're excited to have the opportunity to expand our fleet with the addition of Pirate Water Taxis, providing a fun tour, along with a hop on and hop off water taxi transportation of Tampa's ever growing waterfront and Riverwalk," said Manthey. 
The water taxis will operate 7 days a week, with longer hours on the weekends and during special events. Lightning fans and concert goers can look forward to the taxis servicing the Amalie Arena for events. 
Tickets will be sold on board and online with unlimited boarding all day from any of the stops. The Hop on Hop off all-day passes are $15 for adults and $8 for children, while the one-way passes are $8 adult and $5 for children. Among the stops (see map below for complete route) include popular sites such as Channelside, Tampa Convention Center, Bayshore Blvd. and Curtis Hixon Park.  There will also be a reduced evening rate after 5 p.m. with discounts offered to taxi costumers from partnering restaurants. 
For more information visit PirateWaterTaxi.com or call 813-223-7999.
Map & Stops