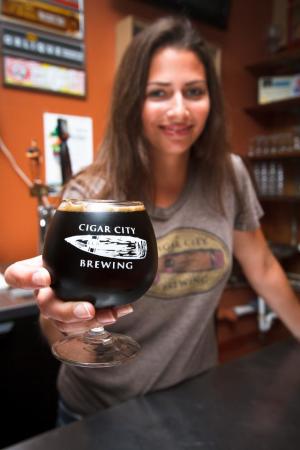 Kat here to help guide you through this weekend's beer festivities! 
Everyone knows I love nothing more than a good, quality happy hour and I am constantly doing my Happy Hour Homework on finding new spots and great deals in Tampa Bay.  Well, with Tampa Bay Beer Week in full…. eh swig, with over 250 events in 9 days.  I have to admit that Tampa Bay Beer week offers an impressive line-up of craft beer events!
Here are a few of my top picks for beer bliss Friday through Sunday in Tampa Bay…
Friday (3/8)
Where: The Pub, International Plaza
What: "Flights and Pints" with Terrapin Brewing Co.  Enjoy beer samples, education and a glassware giveaway.
When: 7:00 p.m. – 9:00 p.m.
Where: Fleming's Steakhouse
What: "Cigar City Beer Dinner".  Sip and savor the flavors of an exclusive night of culinary collaboration with Chef Ryan Mitchell at the helm preparing 6 courses inspired by the beers of Cigar City Brewing (CCB). The CCB crew will be on hand to discuss the beers offered, present the pairings, and offer insight to the minds of our brewers in creating our fresh local brews.  The beer pairing lineup offers quite the feast and defiantly worth the dough.
Cost: $85 all inclusive (includes tax and gratuity)
Call 813-874-9463 to reserve
Saturday (3/9)
Where: Cigar City Brewing
What: Hunahpu's Day!!! This event is going to be JAMMED PACKED  and parking is going to be limited, so make sure you get there early.  Bottles of Hunahpu's will go on sale at Noon, or when the last wristband is handed out, whichever comes first.  Oh and most importantly, don't forget your ID to prove you are 21+.
When: 7:45 a.m. until Midnight (gates open at 7:50 a.m.) Beer will be poured at 9 a.m.
Where: Hyde Park Village
What: "Beer in the Park" The crowds plan to gather for one of the best, most highly anticipated local beer events.  Hyde Park Village does it again…. and even BIGGER and better!  The streets are shutting down to sample over 80 craft beers, live music and tasty food from some of Tampa Bay's top restaurants.  Feel good about drinking, a portion of the proceeds benefit the friends of Joshua House foundation.
When: 4:00 p.m. to 9 p.m. Get there early… these events are known to sell out quick!
Cost: $30 at the door
Sunday (3/10)
Where: Brass Tap (Trinity, Wiregrass and Brandon locations)
What: Tampa Bay Brewing Company will be on tap at Brass Tap Tampa Bay locations.  Get excited, they are bringing Moosekiller Barleywine, which is typically only available at the brewery.
When: 7:00 p.m.
For the full list of Tampa Bay Beer Week festivities check out their website: www.tampabaybeerweek.com
Looks like the weather is heating up this weekend as well as all the events! Stay tuned for more fun things to do this weekend and make sure to follow us on twitter @VisitTampaBay for exclusive behind the scenes pics!
Cheers Ya'll!
Kat