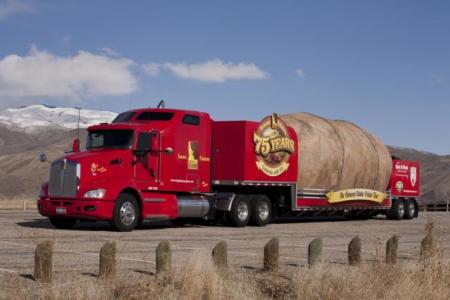 Tampa's very own Datz is one of four restaurants to enjoy a personal appearance by the Big Idaho Potato Truck, the world's largest potato! The 72 foot semi-truck known as the Idaho Potato Truck is touring the country from coast to coast in 2013, stopping in over 50 cities as part of an effort to raise awareness for Meals on Wheels.
The truck will be visiting Datz May 31 at 11 a.m., where the restaurant will be handing out "spudnuts" (a potato based doughnut) and their famous homemade chips. (Parking is limited)
Locals listen up; Datz will be running two social media contests: A "submit your original potato recipe" contest on Facebook, and a "best day-of" photo contest on Instagram. The winning Facebook recipe will be featured at Datz and the winner will receive a gift card good at both Datz and Datz Dough. Winner of the Instagram photo contest will rexieve free Datz chips for a year (one a la carte side per week). To enter the instagram contest, the global hashtag #TampaTater must be used in your submission and the user must follow @Datz4Foodies.
The titanic tater itself isn't edible, but here's some tater trivia:
A real potato the size of the Big Idaho Potato:
would take more than 10,000 years to grow
weighs six tons (12,130 pounds), which is equal to 32,346 medium-sized Idaho® potatoes
is 1,102 times heavier than the largest potato ever grown
which weighed 11 pounds
would take 2 years and 9 months to bake
would make 30,325 servings of mashed potatoes
would easily make over 1,500,000 average-sized French fries
Datz is located at 2616 S MacDill Ave, Tampa. For more details call 813.831.7000.