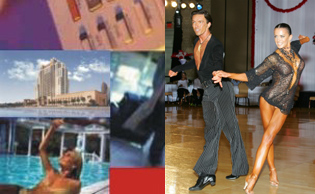 Hey everyone, Travis back with some really exciting Tampa Bay Entertainment options for you.  The thrill and excitement of a live ballroom dance competition is hitting Tampa Bay this month as one of the nation's most glamorous and prestigious competitions returns to Tampa Bay, attracting competitors and celebrities from around the globe. 
The Millennium Dancesport Championships will be held June 21-25, 2011 at the Tampa Marriott Waterside Hotel & Marina in downtown Tampa.  More than 1,700 dancers are expected to compete. 
During the day, attendees will see pro/am competitors (professionals and their students like Dancing with the Stars) and youth competing, while professional couples and daytime finalists take to the floor in the evenings.  Over the five days, dancers will vie for $125,000 in cash and prizes.
The event's theme this year is Welcome to Burlesque and the stage will be transformed into a sexy, classy boudoir with dazzling costumes, elegant ballroom couples and sultry Latin dancers.   Day and evening tickets are available and seating is limited.  Day sessions are from 9am to 5pm and evening sessions are from 8pm to midnight.  Tickets are: Day Sessions: $25 per day; Tuesday evening: $25 & $50; Wednesday and Thursday evenings: $50 & $100; Friday and Saturday Evening: $70 & $150. 
Reservations are required and tickets are available for purchase at 863-668-9668 or emmaoswald@aol.com.  For more information, visit www.m2dance.com.  Now, even if dancing isn't "your thing", you better still come out because it's going to be awesome!  We'll be back with more updates about this (including celebrities who'll be attending), so stay tuned. 
And keep checking back fo more information about great things to do in Tampa Bay.