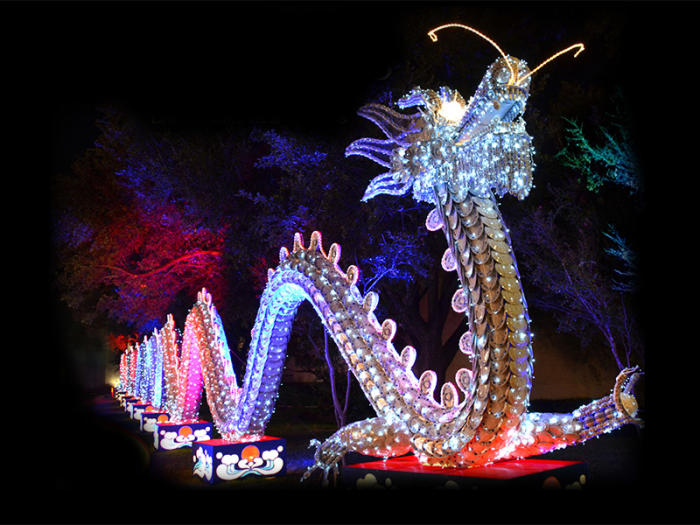 Tampa's Lowry Park Zoo has welcomed 40 craftsmen from Zigong in the Sichuan province of China. They'll spend the next few weeks construction a traditional Chinese lantern festival on the grounds of the zoo.
Zoominations: A Chinese Lantern Festival of Lights opens Feb. 28 and will run for three months. It's the first festival of its kind in the Southeast U.S.
The workers will build enormous illuminated displays from steel wire, silk and satin. The shaped will be lit with LED lights.
When they finish, the zoo will feature 30 displays spread across its 26 acres. The art will cover traditional Chinese themes from nature and folk lore, along with larger-than-life zoo animals such as elephants and rhinos.
A key feature of the exhibit will be a reproduction of the 600-year-old Beijing Temple of Heaven.
Lantern festivals have part of traditional Chinese New Year celebrations for 2,000 years. Celebrations run from mid-February through early March in China. New Year falls on March 5 this year.
The festival at Tampa's Lowry Park Zoo will include Chinese acrobats and a market with handmade crafts. You can find out more at the Zoominations Facebook page.
Tampa's Lowry Park Zoo is accredited by the Association of Zoos and Aquariums (AZA. It has been rated No. 1 by Parents magazine, "10 Best Zoos," (2009) and Child magazine, "The 10 Best Zoos for Kids" (2004).
The Zoo is located at 1101 W. Sligh Avenue in Tampa, one mile west of I-275 (exit 48) and is open seven days a week, from 9:30 a.m. to 5 p.m. daily.  Parking is free.