Hi folks! Jerm here and I just wanted to drop a line and tell you about my experience as I  recently got to see
Wonderland the Musical
last week!
If you haven't been to see it yet guys, I suggest you clear your calendar and try and make it there before the end of the week when it will be leaving the
David A Straz Center for the Performing Arts
. I sat there in amazement and watched this amazing show and its phenomenal cast of characters, and would definitely go to see it again!
For those of you who didn't know, Wonderland had its world premiere in Tampa on Saturday, Dec. 5, 2009 in TBPAC's Ferguson Hall.
The music for this amazing show is by Frank Wildhorn, the composer of The Civil War and Jekyll & Hyde, with lyrics by Jack Murphy. Gregory Boyd will direct. I loved it so much I found myself singing the tunes in my head over the Christmas holiday.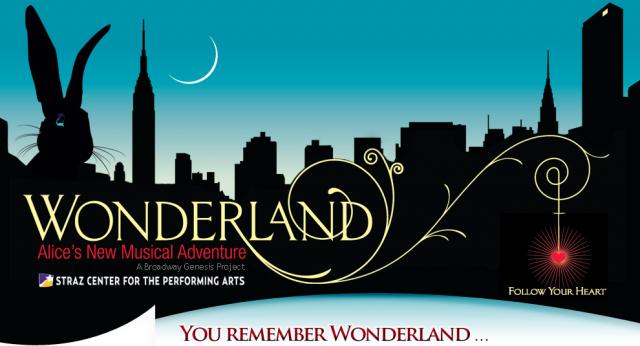 I must admit that my memory of Alice in Wonderland was a bit foggy, so it took me a while to get into it, but Wonderland is set in present-day Manhattan and a timeless Wonderland. It's the story of author Alice Cornwinkle (a descendant of Lewis Carroll's muse Alice Liddell), who is struggling with her career and her daughter, Chloe.
In short, you go through the story with Alice in a modern-day version of Wonderland and the Looking-Glass World where Alice must find her daughter, defeat the Queen and learn to follow her heart.
I am always amazed and musicals and the talented people on stage and off that it takes to pull off a show like this. I have to admit that my two favorite characters were the Queen of Hearts, and El Gato. They had me laughing the most with their antics... OFF WITH THEIR HEADS!!!
What makes this show even more phenomenal is that our own David A Straz Center for the Performing Arts Center (formerly TBPAC), one of the largest and most prolific performing arts facilities in the country, served as lead producer, using its facility, administrative structure and other resources.
As far as Arts and Culture in Tampa Bay goes, it won't get much better than this, so if you haven't already gotten your
tickets for the show
, be sure to do it this week as the final show is January 3rd!
That's all for now folks, but be sure to check this and all of our other great Tampa Bay area events out, and stay tuned for more updates on things to do in Tampa Bay!