Hello there folks! Jerm here with some arts and culture in Tampa Bay related trivia for ya! As promised its time to giveaway some tickets for tomorrow's performance of
Wonderland the Musical
at the
Straz Center for the Performing Arts
!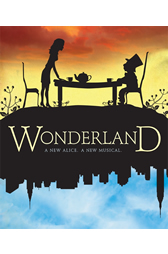 Now today folks we'll be giving away two tickets for
Twitter
, and two tickets for
Facebook
!
As always, instead of re-tweeting, just answer the trivia question(s) on Twitter or on Facebook to have a chance to win. Answers placed in the comments section of this blog will not count.
Once you do that you will be entered in to win, as we will randomly draw one name total, and that person will have two tickets to this awesome event!
If you are playing on Twitter remember that those who choose to re-tweet, it does indeed increase your chances of winning.
Here we go, I pulled today's trivia from a variety of sources, so lets see if I stumped you guys:
True or False: Wonderland the Musical director Gregory Boyd,  is also artistic director of the Alley Theatre in Houston, Texas?
Which Wonderland actress recently performed the National Anthem on New Years day for the 2011 Outback Bowl?
Name the actress who plays the Mad Hatter in this version of Wonderland the Musical?
Okay guys, those are pretty tough questions and I think I stumped you!