Hello there folks! I welcome you back to your desks after what I am sure was plenty of holiday gathering and fun for this past New Year's celebration!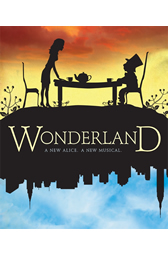 Well with the new year brings new great arts and culture in Tampa Bay happenings! Well this one is technically not new, as it debuted here last year, but in case you haven't heard...
Wonderland the Musical
is back and will open this week at the
David A Straz Jr. Center for the Performing Arts
.
If you are not familiar with the storyline, first of all please crawl out from under your rock... and secondly, Wonderland is a new musical about Alice, who's lost her joy in life. She's estranged from her husband, alienated from her daughter and in danger of losing her job. It takes a trip to Wonderland for her to discover what she's lost and reclaim what's most important to her.
If you liked it before, you'll love it now and I'll put the Jerm stamp of approval on that one. If you didn't see it last go round, make sure to catch it this time before this cast and set, opens on Broadway in a few months!
Now for those of you who have continued to read through this post instead of stopping early, you will be delighted to know that we will be giving away some tickets at some point, so be sure to be paying attention here as well as our
Facebook
and
Twitter
pages.
Well folks that's it for now. Stay tuned in when we will announce the trivia questions and check back for more
arts and culture
related things to do in Tampa Bay!