Well folks, as promised its time to giveaway some tickets for this Sunday's performance of
Wonderland the Musical
at the
Straz Center for the Performing Arts
!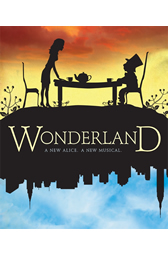 Today is a rather large giveaway as we will be giving away
three pairs of tickets
to the Sunday January 9 show! I am in the mood to try and stump you guys today though so I hope you have your trivia hats on!
Well now that I got you all excited about a chance to win these tickets, lets hop to it! As always, instead of re-tweeting, just answer the trivia question(s) on
Twitter
or on Facebook to have a chance to win. Answers placed in the comments section of this blog will not count.
Once you do that you will be entered in to win, as we will randomly draw one name total, and that person will have two tickets to this awesome event! For those of you playing on Twitter and who choose to re-tweet, it does indeed increase your chances of winning.
Here we go, and I hope you were paying attention to yesterday's blog post, as that is where a chunk of today's trivia will come from:
Wonderland the Musical was optioned by which Straz Center Employee?
The Alley Theatre in this US city, is where Wonderland transferred for further development, and as it also became one of the highest grossing shows in the theater's history?
What day will Wonderland the Muscial debut on Broadway?
Well that's it for now folks... good luck and check back later for the announcement of winners. Stay tuned in for more update on things to do in Tampa Bay!