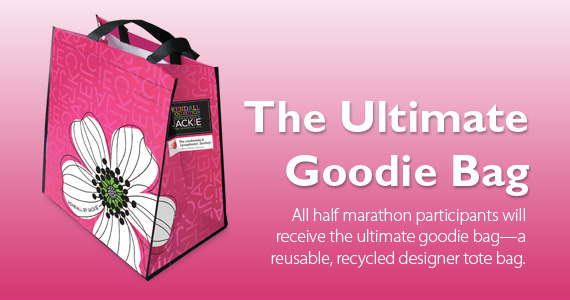 Hey Tampa, Lisa here with a fun way to spend Sunday enjoying amazing Tampa Bay Weather.
The Women's Running Magazine Women's Half Marathon and 5K is this Sunday November 21st, in St. Petersburg. Online registration has already closed, but there is still time to participate! You can register in person at the two day health fitness expo held at the Renaissance Vinoy Resort. The expo is from 2-7pm today, and from 9am to 5pm tomorrow.
This isn't your average run of the mill marathon. Designer Jackie McFee is the premier sponsor, and will be debuting her
Kendall Kollection Sports Apparel
at the expo. Now I'm going to tell you why this is significant.
Jackie is a designer who created the brand
JACK!E
, that has been seen on TV shows such as Glee. She also created the Kendall Kollection that raises money for the Lukemia and Lymphoma Society. When her cousin was diagnosed with Lukemia at age 2, Jackie knew she had to do something to help; thus the creation of the Kendall Kollection. 
Not only is the wildly popular collection sold in tons of retailers in the United States, it's also going to be part of the Skirt Sports Athletic Apparel line. To showcase this special collection Jackie will be in St. Pete this weekend for the marathon. Oh and by the way, she's also running it.
Get out there Tampa and join this great cause, and you will get a sweet Jackie designer bag, along with a really unique medal for finishing the half marathon. Also check out Jackie's 
blog
for more updates!
That's all for now Tampa, but check back for more Tampa Bay Area Events and Tampa Florida News Updates!