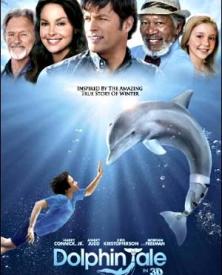 Hi Tampa Bay, Alex here with some news on Dolphin Tale. 

Since the release of Dolphin Tale in late September,  Winter the Dolphin has been very popular at the Clearwater Marine Aquarium.

For those of you who enjoyed this movie, now you have the chance to take a look at some of the behind the scenes footage and props from Dolphin Tale at Winter's Dolphin Tale Adventure.

Winter's Dolphin Tale Adventure is open in downtown Clearwater, at the former Harborview Center, 300 Cleveland St.
The area's newest attraction highlights Dolphin Tale, a 3-D major motion picture, starring the local favorite, Winter.
 
The Dolphin Tale Adventure includes: re-built movie scenes, movie images, behind the scenes footage and a variety of actual props used while filming Dolphin Tale. All of the footage and props were donated by Alcon Entertainment. This attraction also includes: two mini-theaters, an interactive kid's area, Winter's true tail history, a new and expanded retail store and more.

If you have yet to see the movie Dolphin Tale, click here, to watch the preview or even buy your own copy. The holidays are right around the corner, so this could be a great gift for family and friends.

Guests may purchase tickets to this adventure on location or at Clearwater Marine Aquarium. Packages to both attractions will be sold, with free Jolley Trolley transportation included.

Admission for kids 12 and under is $9.95. The packages, which include a ticket to Clearwater Marine Aquarium and Winter's Dolphin Tale Adventure are $19.95.

Head on over to Winter's Dolphin Tale Adventure today!

Have a wonderful weekend, and check back with us often for Tampa Bay Film news.