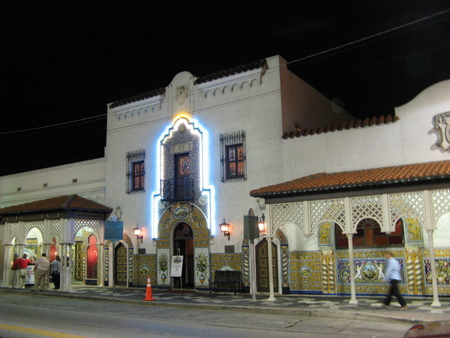 Hi All!  Travis back with a Tampa Bay Dining update for you!  And it's at one of my favorite restaurants in Tampa Bay - The Columbia! 
The Columbia Restaurant in Ybor City is kicking off a promotion that will have wine lovers saying Salud!  In honor of its 105th Anniversary, The Columbia will feature premium wines at special anniversary prices throughout September -
Dom Pérignon, one of the world's finest champagnes, will be offered at $158 (not necessarily in my price range, but great nontheless). 
 
The Columbia is owned and operated by the 4th and 5th generation members of the founding family, and is proud to feature these fine wines from Spain that are from family-owned wineries: 
 
Spanish Featured Wines:
 
Vega Sicilia - Valbuena 2001 (Ribera del Duero) $105
Espectacle 2004, René Barbier (Priorat) $85
Alidis Expresión 2004 (Ribera del Duero) $40 (One of Richard Gonzmart's favorite wines produced in Spain today.)
Bodegas Arzuaga Gran Reserva 2001 (Ribera del Duero) (91 points, Wine Spectator) $110
 
California Featured Wines -
 
The Columbia has an enviable collection of Opus One wines from California, and two were selected to feature at incredible values during our Anniversary Celebration throughout September, including: 
Opus One 2000 for $125
Opus One 2003 for $130
Caymus Vineyards was founded in 1972 by the Wagner family on their Rutherford property in Napa Valley.
Over thirty-five years later, Caymus is still a family-owned and operated company.
Caymus Special Reserve Cabernet Sauvignon 2007 (96 points, Wine Spectator) $90
Caymus Cabernet Sauvignon 2000 $60
Chateau Montelena was founded in 1882 by Alfred L. Tubbs. By 1896 his winery was the seventh largest in the Napa Valley.  In 1976 Chateau Montelena put California at the forefront of the wine world when their 1973 Chardonnay rated above all other white wines at a grand tasting in Paris France. The results proved that Chateau Montelena could produce some of the world's finest wines, and that California's wine industry had come of age.  Today, it is still family-owned by the Barrett Family.
Chateau Montelena Estate Cabernet Sauvignon 1999 for $90
And there you go.  If you are a wine lover, then make sure you make your plans to head to the Columbia!  And keep checking back here for more great things to do in Tampa Bay, and other Tampa Bay area events.