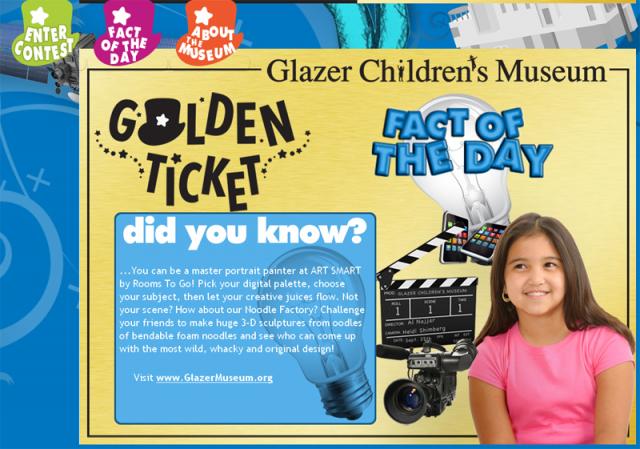 Hello everyone! Happy morning to you guys, and I wanted to make sure I got your week off to a great start with some exciting news from one of our newest Tampa Florida attractions,
The Glazer Children's Museum
!
For those of you who didn't know, the Glazer Children's Museum will be opening up their doors on September 25 to children and families from all across the Tampa Bay area!
If you are not excited about that, then I suggest you get there soon, because having seen the museum up close and personal, I can say 100% that its going to be a great place for kids and families for many years to come!
So with all the buzz, about the museum, there is an even more cool event going on leading up to the doors opening!
Win a Golden Ticket
to the Glazer Children's Museum! Visit the website to the left to register for a chance to win a Willy Wonka like Golden Ticket, which gets you access to the museum before anyone else! Now how cool is that folks!
Be sure to schedule your weekend around September 25th so you can be the first to experience this new attraction in Tampa Bay! That's all for now from me, but be sure to stay tuned in to updates on things to do in Tampa Bay and grand opening related Tampa Bay area events!