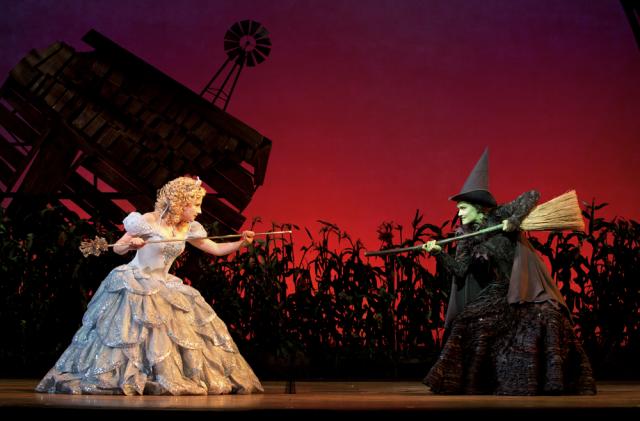 Back by "Popular" demand. Variety calls WICKED "a cultural phenomenon," and previous engagements in Tampa have sold out and broken box office records. Winner of 35 major awards, including a Grammy and three Tony Awards, WICKED is "Broadway's biggest blockbuster" (The New York Times).
Our Tampa Bay insider had a chance to get a behind the scenes look at how the production of WICKED goes from truck to stage which was pretty impressive set using 13 trucks.  She also discovered a "Insider's Tip"! Scroll to the bottom to learn how to score $25 seats!

Long before that girl from Kansas arrives in Munchkinland, two girls meet in the land of Oz. One — born with emerald green skin — is smart, fiery and misunderstood. The other is beautiful, ambitious and very popular. How these two grow to become the Wicked Witch of the West and Glinda the Good makes for "the most complete — and completely satisfying — new musical in a long time" (USA Today).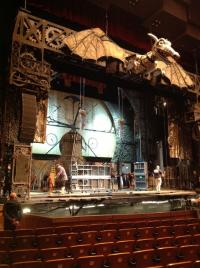 WICKED will play Carol Morsani Hall at the Straz Center, Jan. 9-27.  For tickets or more information about the Straz Center and its upcoming events, please visit www.strazcenter.org
Tickets - http://www.strazcenter.org/Events/1213_Broadway/Wicked.aspx#&panel1-2
(Recommended for ages 8+)
                                                                           
Show Dates & Times
Tues. 7:30 p.m.
Wed. 7:30 p.m.
Thurs. 7:30 p.m.
Fri. 8 p.m.
Sat. 2 and 8 p.m.
Sun. 1 and 6:30 p.m.

There will be performances on Thursday, Jan. 10 and 24, at 2 p.m. There will not be a performance on Sat., Jan. 26, at 2 p.m.
Insiders Tip:  Want to score affordable seats? Starting today, a day-of-performance lottery will be held daily for the entire run of the show for a limited number of $25 seats (Regularly priced tickets start at $73.50).  People who are interested in the lottery tickets can enter their name into the WICKED drum at a table by the Straz Center ticket sales office (just like they do on Broadway in NYC) starting two-and-a-half hours before showtime.  Entries will be accepted up until two hours before the show and names will be drawn for seats in varying locations (some really great seats actually) and leave your credit card at home because they only accept cash. There's only one entry per person and a two-ticket limit per entry.  You have to be present to win and lottery participants must have a photo ID when submitting their entry form.  More details here: www.strazcenter.org/Events/1213_Broadway/Wicked.aspx#&panel1-5