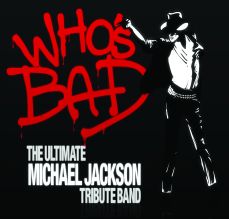 The ultimate Michael Jackson tribute band will be performing tonight at the Ritz Theater in Ybor City. Who's Bad has been recognized as one of the nation's top tributes to the King of Pop. 
Their songlist includes: ABC, Another Part of Me, Bad, Beat It, Ben, Billie Jean, Black or White, Blame it on the Boogie, Butterflies, Can You Feel It, Dancing Machine, Dirty Diana, Don't Stop Til You Get Enough, Earth Song, The Girl is Mine, Human Nature, Heartbreak Hotel, I Can't Help It, I'll Be There, I Want You Back, Jam, The Lady in My Life, The Love you Save, Man in the Mirror, Never Can Say Goodbye, Off the Wall, PYT, Remember the Time, Rock With You, Shake Your Body Down, She's Out of My Life, Smooth Criminal, Thriller, Wanna Be Startin' Something, The Way You Make Me Feel, Working Day and Night, You Are Not Alone, You Rock My World
Tickets are available at the Ritz tonight! The performance begins at 8:00 PM and tickets are $20, so make sure you put this one on your Tampa Bay entertainment radar this evening.