Hello everyone! Hope your weekend went as awesome as mine did! Time to get back to the grind this week, but its not all gloom and doom as I have a very important update for you about a great show coming to the
David A Straz Jr. Center for the Performing Arts
!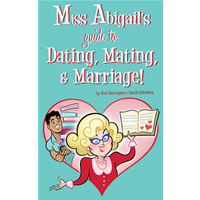 This Wednesday, let Miss Abigail take you back to a simpler time ... when the divorce rate wasn't 50% and when fidelity was more than an investment firm! During this 90-minute comedy, Miss A will teach you how to have the perfect kiss, what you should (and should not) talk about on a date, and how to let us men think we wear the pants.
If any of you are like me and live a single dateless life, then this show is definitely for you, but whether you are in a brand new relationship, or have already found the love of your life, I am sure that there is plenty you can learn from
Miss Abigail
!
For those of you interested, I'll be doing a pair of ticket Trivia Giveaways tomorrow for three shows this week, so be sure to paying attention around noon tomorrow!
That's all I am gonna give you for now, so be sure to check me out tomorrow for when I post the blog and give you a chance to win a pair of great tickets!
For more info on arts and culture in Tampa Bay, be sure to check back early and often for these updates from Jerm and the rest of the Tampa Bay team!