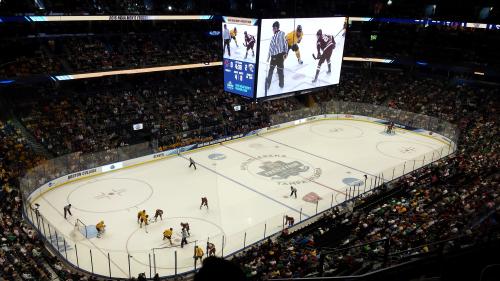 Their team may have dropped to Quinnipiac in the first semifinals round, but there's no doubt the fans of Boston College had a great time here in Tampa Bay last weekend.
How do we know? Let's check with the folks at BC Interruption, hub of all things BC Hockey:
Let us be the zillionth to say: the Frozen Four and Tampa are a perfect fit, and Tampa needs to permanently be in the rotation going forward.
Can't get any clearer than that.
What makes a great Frozen Four destination? According to the BC Interruption crew, the mix is:
There should be a centralized, walkable gathering place near the arena with lots of bars, restaurants. 
(Check.)
There should be interesting things to do away from the venue for the day between the games.
(Check. Check. Check. Check. And Check.)
It should be a reasonably convenient location to travel to.
(Check with flights from all over the country.)
Oh, yes, and
Another helpful element is for the town to be a hockey town...
(Check with Czechs)
And 70+ degree weather in April didn't hurt either.
We're glad the BC fans loved their time here in Tampa Bay. We loved having them. Congrats to everyone who got to leave their mittens behind for this year's Frozen Four. And congrats to North Dakota for its win.
We'll be ready you Frozen Four fans whenever you want to come back.