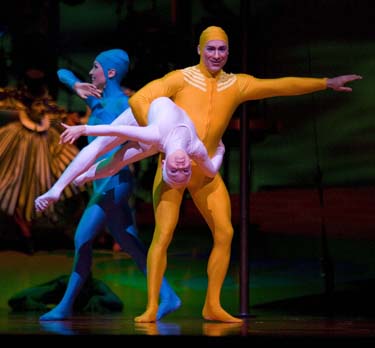 Hey gang...Travis here with a brief synopsis of the Cirque du Soleil show, Saltimbanco, that is coming to the St. Pete Times Forum next month.  Don't worry, I'll be bringing you more details about the show (times, dates, tickets, etc.) later, but right now, you need to know what you are seeing. 

Here's what's in store for attendees: Full of colour, amusement and amazement, Saltimbanco is a fun show for the whole family to enjoy, a great outing for everyone! The 50 stunning artists from 20 countries perform astonishing acrobatics in a unique theatrical style with original live music, colourful costumes, and outlandish characters.

Since its world premiere in 1992, Saltimbanco has toured the world and thrilled more than 10 million people on five continents. For 14 years, the show performed in the Cirque du Soleil big top.  In 2007, Saltimbanco embarked on a new arena tour across North America.

Now, I don't know about you, but that sounds AMAZING, as I hear most Cirque du Soleil shows are.  So, head on to www.cirquedusoleil.com to get more details. 

And, keep checking back here for more great things to do in Tampa Bay and amazing Tampa Bay entertainment.