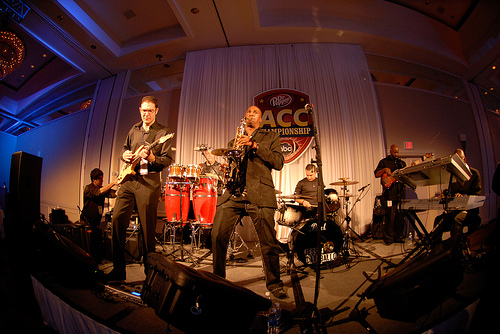 Hey everyone!  Travis here to keep you updated on one of the coolest Tampa Bay area events that you'll be able to enjoy all year (especially for the rest of the year). 
With the 48-hour celebration of ACC football this weekend, it's time to start planning out your 2009 Dr Pepper ACC Championship itinerary.  Well, I'll be giving you some of the highlights a little bit at a time, so you can figure out how to enjoy your 48-Hour Celebration of ACC Football! 
Today...it's the ACC Coaches & Awards Luncheon.  It takes place on Friday, Dec. 4 at 12noon.  It'll be held at the famed Tampa Convention Center (ok, it's famed to us). 
Here's the scoop:
The 2009 ACC Football awards will be presented at this luncheon. Head Coaches Dabo Swinney of Clemson and Paul Johnson of Georgia Tech will be present to discuss their team's seasons and participate in the festivities.
Plus, this will be a great time to meet some of the coolest collegiate (former and present) football players of all time, so you should definitely think about attending. 
If you want more information, just log on to www.TheRoadToTampaBay.com.  Limited tickets are still available, so call now...813-218-3814. 
Like I said, keep checking back as we'll be keeping you updated on what's happening for the 2009 ACC Football Championship in Tampa Bay.  Plus, we'll keep bringing you more great things to do in Tampa Bay, and other Tampa Bay area events.