Hey everyone!  Travis back...but with a special guest.  Scott from the Florida State Fairgrounds is going to be giving us some updates about what there is to see, do, interact with, and much more out at the Fairgrounds.  They have some really cool Tampa Bay Area Events happening, so make sure you keep checking back.  Take it away Scott -
You would never believe how hard it actually was to live 120 years ago in rural Florida.  No internet connection, no electricity, no air conditioning, and no iPhone.  Dirt roads dotted the landscape, travel was done by horse, and cattle roamed wild and was hunted by cowmen with an entrepreneurial spirit.  The word Pioneer comes to mind when thinking about these early settlers, and right here in Tampa you can experience first hand the experiences that these people had to endure.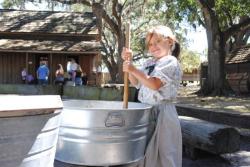 Many places around the Tampa Bay area offer history experiences in museum settings, but none like Cracker Country Living History Museum.  This museum is part of the Florida State Fairgrounds, and is open for public events only a few times a year.  Interpreters sport bonnets and straw hats, and guests step into rural Florida's history as it was in 1898.
See for yourself how the pioneers lived with the actual buildings that have been moved from places in Florida to be curated and refurbished on the fairgrounds.  Some of the crafts that guests will be able to participate in cutting out paper dolls, making period toys, sewing fabric dolls, cornhusk dolls, stuffing potpourri sachet, bookmark weaving, and quilting.  All of the museums buildings will be open to explore as well as being able to dip candles, twist rope, play with hoop catchers, pull and eat taffy, make a postcard, and laundry, a kids favorite.
A special event, Make and Take Craft Day on May 5th will feature craft making from the 1800's plus all the buildings and hands-on activities that visitors enjoy.  The museum will be open from 10am - 4pm, and admission is $7 for adults, students (six to twelve years old) and senior citizens are $6, and children 5 and under are admitted free.  Additionally, all of the crafts that a visitor makes are included in the admission price.  Visit their Facebook page at "crackerycountrylivinghistory" to download a discounted admission coupon. 
So if your looking to start your weekend with a family fun activity, and your a history buff, Cracker Country is the place to be on Saturday afternoon.
And there you go...thanks Scott!  Like we said, Scott will be back with more updates about what's happening at the Florida State Fairgrounds, but next time without the introduction!! 
See everyone back here with more updates and great things to do in Tampa Bay!