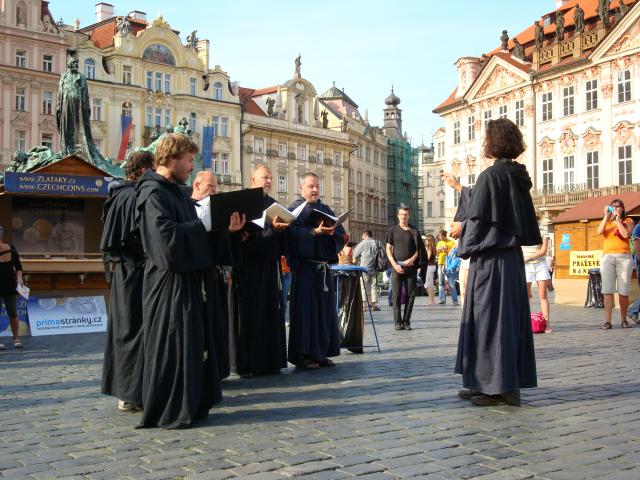 Hey Tampa Bay!  We are still have a great time promoting Tampa Bay here at the World Dragon Boat Championship in Prague!  We went to the Old Town Square or Staromestske Namesti for dinner last night.   A new adventure for dinner. 
Cool square as it has Gothic, Renaissance and Baroque style architecture.  Not sure I can pick them all out but it is very cool.  You see the St Nicholas Church, the Tyn Church, Astronomical clock and the 27 crosses. 
We went to a Spanish/steak restaurant in the square.  We had perfect seats for the changing of the clock at each hour.  "Death" a statue, played music at the top of each hour while the 12 apostles came out.  There were four statues and we only could identify death and lust and they were on opposite sides.  Anyway, death was the death of each hour as they roll along.  Funny way to think of it but it is true.
The 27 crosses are crosses in the sidewalk which represents 27 protestant nobles, merchants and intellects were beheaded for their rebellion against the Catholic church.  It was another symbol of the Czech Republic people trying to be free. 
It seems like everything I read is that these people are being conquered and they just want to be free.  Anyway, they have done amazing things since the Fall of Communism in 1989.  It rocks!  They like Americans too and speak English pretty well. 
I am trying Czech but it is really hard.  Lots of ska and ny on every word.  No is not even no.  I thought the whole world said No.  I keep using every bit of German, Spanish and French I know with no avail.  English is what they know the most. 
Still missing all the great things to do in Tampa Bay...be back soon!
I hope you enjoy my pics...more to come shortly about tonight's adventures, and even more about the races!  Talk to you soon...