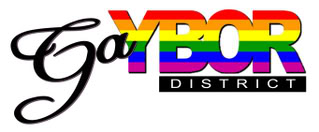 Hey everyone!  Travis back with an update some Tampa Bay entertainment during the holidays.  As you may have heard, GaYBOR is a major force in Tampa Bay, and they recently had their holiday bar crawl.  Well, here's a message from one of GaYBOR folks themselves..:
Put together 200+ Party People, Great Friends, Fun Drinks, Good Food, Wonderful Bars and Restaurants all on a Beautiful Night in Historic Ybor City = The GaYBOR Holiday Bar Crawl 2009!!!
 
The group gathered at The Reservoir where Mamma gave the first Holiday Toast! Across the street at the Honey Pot where they were getting ready for the Miss Black Drag Pageant. 
Around the corner into Streetcar Charlie's but not before playing their piano outside first! On our way to the Ybor Social & Ybor Eagle we stopped at MC Film Fest for Rice Krispy Bars with Rainbow decorations!
Bark Bark from Miss Amber too!!" It's a Parade, it's a Parade", was the chant down 8th Ave to Spurs Country Western Bar. Kevin was waiting for us with Mohitos! Around the corner & into The Green Iguana.
Then a couple doors down to Coyote Ugly. The Girls were on top of the bar performing their hearts out! Gaspar's Grotto Courtyard where you could see a sky full of stars. Back up to 16th & 7th Ave into the newly opened JJ's Cafe & Bar.
The renovations were very impressive. Did I heard Congo Line???? Yes, as we made our way up the escalators to Hamburger Mary's Bar & Grille. Only open two days so far they already had their act together!!!
WELCOME. Over the bridge to Centro 20 Muvico. Popcorn & Beer in the Premier Lounge/Theatre. Back over the bridge again to Centro Canteen for test tube shots & frozen drinks.
Around the corner was Teatro on Seventh. They put out a very impresive buffet of sample items from their award winning Chef!!! Downstairs just past Reservoir was New York New York Pizza! www.myspace.com/nynypizza FREE beer & $1 slices of pizza.
Perfect timing!!! Last stop was G.BAR where the dancing partiers went on into the early morning hours!   But wait there was still more. Some people chose to take advantage of the $29 room bar crawl special at The Hampton Inn & Suites Ybor.
Others, with designated drivers, stopped by Chelsea Night Club & City Side!!!!! The one comment we heard at every stop was " WOW, I didn't know this was here! & So this is where it's at." 
A Night of win, win for everybody!!! The GaYBOR Coalition raised funds, the party people found new fun places, the merchants all received  excellent exposure!  The GaYBOR Experience  "Dinning, Clubs, Shopping, Lodging  & More", all within easy walking distance. 
Thank You & see ya in GaYBOR!!!!!
If you were there, I hope you had a gerat time!  If not, make your plans to be there next year. 
Until next time, keep checking back for more Tampa Bay area events, and other things to do in Tampa Bay.