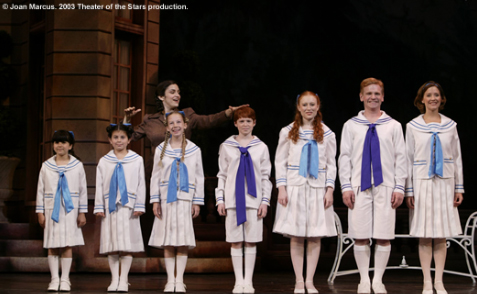 Hello all! Jerm here with a reminder about this weekend at the
Straz Center for Performing Arts
where they are will have a plethora of shows going on!
Some of you were lucky enough to have won tickets to see The Sound of Music via Twitter yesterday, so congrats to Maria Mertens, Judy Conn and Lori Laquerre on winning tickets for opening night this Friday at 8pm at the Straz Center!
In addition to The Sound of Music, there is plenty going on this weekend at the Straz Center so I have taken the liberty of listing some of these for you guys! If you haven't been to see a show here, this weekend is a perfect time to get into the habit! Its a perfect example of the wide range of arts and culture in Tampa Bay is!
St. Peter Claver Catholic School Benefit
- St. Peter Claver Catholic School Benefit concert features Gospel singing by various local artists and headliner Belinda Womack.
Dog Sees God: Confessions of a Teenage Blockhead
- Good Grief! Teens struggling with sex, death and identity By Bert Royal Directed by David M. Jenkins
Respect: A Musical Journey of Women
- From "Someone To Watch Over Me" to "I Will Survive," it's the journey of women, told through Top-40 music in the new musical production
RESPECT: A Musical Journey of Women
.
The Sound of Music
- A heartwarming musical with a charming cast of characters,
The Sound of Music
will be one of your favorite things, too! Maria, a novitiate ("nun in training"), is sent from a nearby convent to act as governess to the seven children of widowed Austrian aristocrat, Captain von Trapp.
Demetri Martin
- Called the "Voice of Generation Y," Demetri Martin, is at the forefront of a new breed of young comics who get laughs with acerbic, relaxed observational humor. Voted one of the "25 Funniest People in America" by Entertainment Weekly, Martin left NYU Law School to pursue his career as a writer/comedian/artist/musician.

Einstein's Dreams
- This adaptation by Ralf Remshardt and David Gardiner plays up the theatricality of dream imagery using a versatile ensemble with imagination to spare.
Jazz at the Straz Opening Night: Jazz Cellar Underground Orchestra and featured guests
- Legendary local group returns from a 10-year hiatus to play Jazz Cellar favorites along with some smokin' new charts.
That's all I got for now folks, but be sure to check these shows out and
get your tickets
for these shows, or any upcoming shows! Until then, stay tuned in for more updates on Tampa Bay area events!