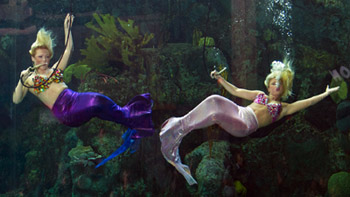 Hey Guys! Jerm here with one of my favorite annual blog and giveaway updates! It's MERMAID TIME!!! 
Yes, as you can see by the unnecessary all caps, that I am super excited about this event!
Mermaids from the Weeki Wachee Springs State Park
will be splashing into The Florida Aquarium this weekend!
The largest tank in the place, the
Coral Reef exhibit
will have shows at 11 a.m. and 4 p.m. in addition to the regular Coral Reef Dive Show! A
As always, Jerm is giving one of our lucky
Twitter
and/or
Facebook
friends/fans the chance to win tickets to this awesome event! There will be a one winner on each for the prize of two tickets each! All you have to do is follow us on either and answer a few simple trivia questions! The correct answer will enter you in a chance to win!
Now even if you don't win, that is no excuse to miss out on seeing this great show, so make sure you plan to be there this weekend to see the magic!
Keep in mind though that the Mermaid show has limited seating and will reach capacity. Complimentary show tickets are only available on a first come, first serve basis at the first floor lobby on the day of the show. Please show an aquarium receipt or membership card to receive one ticket per person that is present. No reservations, refunds or rain checks will be given for future mermaid showings.
Now enough of my rambling... on to the trivia!
This Clawson, Michigan native and Weeki Wachee Mermaid is a huge fan of the movie "Anchorman"

What are the dimensions of the Panoramic Window in the Coral Reef exhibit at the Florida Aquarium? (Width, Height, Thickness)


Name the Author of the book "The Little Mermaid"?
Okay folks! That's all I got for now, but get to answering and for those of you playing on Twitter, remember that re-tweeting does increase your chances of winning!