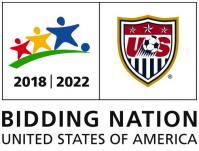 Hey Tampa Bay, Alex here with a question for you! Who wants to see the 2018 and 2022 FIFA World Cup here in Tampa Bay? If so, you need to sign the petition to keep us in the running.
As of this week's update the big winner is Houston, who moved from sixth place to first and increased their support by more than double what it was on May 3, while Tampa Bay moved from number 7 to 10 on the bid- city list. What is that all about? Think of all the opportunities and of course fun this event can bring to our city and community!
The final decision being made by FIFA is on December 2. Although this may seem a ways away, it is really just around the corner. So make sure to invite all your friends and family to sign the petition to
bring the FIFA World Cup to the United States and Tampa
.
So,
swing by the Go USA Bid website
to support the USA's 2018 FIFA World Cup Bid along with the 2022 World Cup Bid.