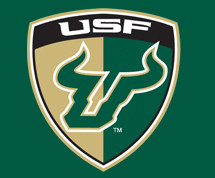 Hello out there sports fans! Hope you guys are doing well as we head into the weekend!
This weekend there are some great events going on, but especially one in particular at the campus of the
University of South Florida
!
As you may or may not be aware,
USF Men's Soccer team
is the #7 seed in the NCAA Men's Soccer Tournament and is hosting a second round match this Sunday.  Through a partnership with USF and the NCAA, The
Tampa Bay Sports Commission
has made available to fans free admission for all attendees this Sunday!
This year's  Bulls squad (12-3-3, 7-0-2) went undefeated in Big East Play to earn the second Red Division Championship in program history, including a 7-2-1 mark at home during the 2011-12 season! The impressive regular season run for USF earned the team a No. 7 overall seed and a chance to play in front of their own packed house at least one more time versus the University of Central Florida!
It's gonna be a great atmosphere and a great game folks, so I suggest you make plans to come out and support the Bulls!
So to sum up everything I just said:
Basically the main details are:
No. 7 seed USF vs UCF
Sunday – 6 pm
Corbett Soccer Stadium on USF's campus
Free admission for everyone
1st 500 kids get a free mini-soccer ball
That's it for now folks, we'll update you on the progress of the Bulls throughout the tourney so be sure to stay tuned in for more updates on things to do in Tampa Bay and Tampa Bay Sports updates!