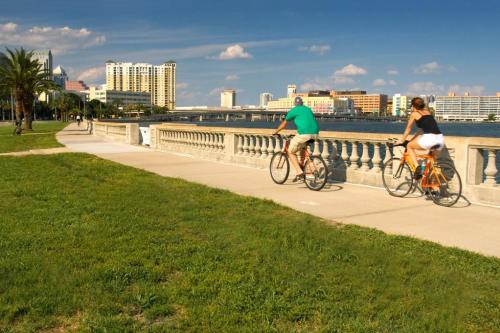 In Tampa Bay, a great outdoor experience is never far away.
With great weather year-round and an abundance of sports facilities, it's no wonder we ranked near the top of Wallet Hub's 2014 Best and Worst Cities for and Active Lifestyle.
We placed 6th on the ranking of the country's 100 biggest cities. We were one notch behind Orlando (No. 5) and well above our neighbor across the bay, St. Petersburg (No. 33). Even Miami (No. 49) came in lower.
At the bottom of the list: Several cities baking under the sun in Texas and Nevada along with New York City, which has some of the highest costs for gym memberships and sports facilities in the country.
So what got us so high on the list? It seems our great weather helped a lot. But so did our abundance of public golf courses, our growing number of bike lanes and sports facilities like swimming pools and tennis courts.
We ranked 4th in terms of sports facilities and outdoor environment, which counted for two-thirds of the overall score.
As the Tampa Riverwalk nears completion and Coast Bike Share makes pedal power available to more people, here's hoping Tampa Bay makes an even better impression on Wallet Hub in 2015.