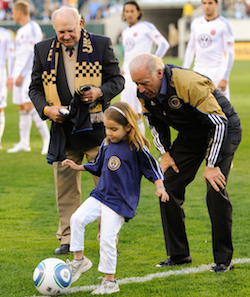 Hello everyone! Jerm here with more 2010 FIFA World Cup news! It was recently announced that Vice President Joe Biden would be heading to South Africa with the USA Men's National Team to represent the USA in the game's opening ceremonies on June 11! 
After the opening ceremonies, VP Biden and his wife Dr. Jill Biden, will hang around for the USA's first game of the tournament against Wayne Rooney's England.VP Biden will also be accompanied by former president Bill Clinton who was recently named honorary chair of the Go USA Bid Committee! 
The World Cup is almost here folks as we are less than three weeks away from kick-off! I don't know about you guys, but I am extremely excited.

Be sure to support the USA's 2018 FIFA World Cup Bid along with the 2022 World CUp Bid, by visiting the Go USA Bid website. Of course you may or may not know that I am a little biased, so make sure you navigate to the Tampa Bay portion of the site and sign that petition!