Hi Tampa Bay, Alex here to let you know that MOSI has been nominated as one of the Top 100 Buildings  in the "Florida Architecture:  100 Years. 100 Places. "competition.
MOSI has been nominated because of its unique campus which sits on 74 acres and encompasses over 400,000 square feet.   The original science center was built in 1980 and is now kn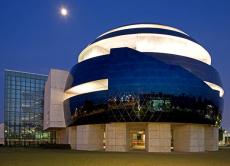 own as the Whitney Andrews Lang Center for Learning and home to the MOSI Partnership School.  In 1995, MOSI's new building was constructed,  which guests now know as home to all of MOSI's exhibit galleries and the first IMAX Dome Theatre in the State of Florida. MOSI built the BioWorks Butterfly Garden in 1996, which is an engineered ecosystem and houses a free-flying butterfly garden.
As part of its 100 year anniversary, AIA Florida plans on showcasing great buildings in a state-wide public survey designed to rank the Top 100 Buildings.  Members of the public from across the state will be asked to rank their favorite sites, and the top ranked building could be Tampa's very own Museum of Science & Industry. 

The survey to cast votes will be released to the public on March 5 and can be found at http://www.aiafla.org.  Voting will be open for three weeks, ending on March 31. 
 
Make sure you vote for MOSI beginning March 5th!