Josh Jones here keeping you posted with a busy December for you Tampa Bay sports fans!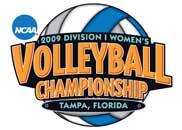 For the first time in the history of the tournament, the
NCAA Women's Volleyball Championship
is headed to the Sunshine State December 17 & 19, 2009 at the
St. Pete Times Forum
.  But first, teams must clinch in Regional play as the tournament continues this weekend!
Here are the Sweet 16 pairings for tonight and Saturday (with Saturday's region finals scheduled for ESPNU telecasts):
Gainesville Regional
No. 1 Penn State (34-0) vs. No. 16 Florida (25-5)
No. 9 California (20-0) vs. Baylor (24-9)
Stanford Regional
No. 5 Illinois (26-5) vs. No. 12 Hawaii (29-2)
No. 4 Stanford (23-7) vs. No. 13 Michigan (26-9)
Minneapolis Regional
No. 3 Florida State (30-2) vs. Kentucky (29-4)
No. 11 Minnesota (26-8) vs. Colorado State (25-5)
Omaha Regional
No. 7 Iowa State (27-4) vs. No. 10 Nebraska (25-6)
No. 2 Texas (26-1) vs. Texas A&M (20-10)
Who will make it to Tampa?  Stay tuned with the most up to date information on the official NCAA Volleyball blog
http://www.ncaa.com/blog/2009d1wvb/
!
You can get your tickets today!  Fans can purchase all session tickets to this year's championships for $60.00 by clicking
click here
, calling 813-301-2500 or by logging on to
www.sptimesforum.com
.
Stay tuned for a full calendar of Volleyball related Tampa Bay area events next week!