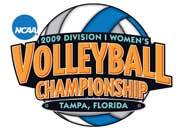 Hey everyone!  Travis here with some great Tampa Bay entertainment news for you!  If you read the sports blog, then you may have already heard about this, but since this is going to provide some great things to do in Tampa Bay, I thought I'd mention it as well. 
Four of the nation's top collegiate women's volleyball programs will arrive in Tampa this week for the 2009 NCAA Division I Women's Volleyball Championship. 
Penn State, Minnesota, Texas and Hawaii will compete head-to-head on Dec. 17 and 19 at the St. Pete Times Forum for the title of National Champions! 
In the 28-year history of the championship, 10 schools have been crowned champion, nine of which were in this year's bracket, including two-time defending champion Penn State, who won their 100th consecutive game to secure their spot in the championship. 
In case you forgot, the season started this past September when Tampa Bay hosted the Tampa Twice Volleyball Tournament, held at the USF Sun Dome. 
The University of Washington, University of Minnesota, University of Florida and University of South Florida competed in the non-conference, regular season tournament to kick the season off. 
From what I understand, this championship is going to provide some amazing competition, so make sure you plan on coming out! 
Fans interested in attending this exciting event can purchase tickets by logging on to www.ncaa.com/wvb.  Plus, you can get all of the info about the championship there too. 
Enjoy everyone!  And keep checking back for more Tampa Bay area events during the holidays.