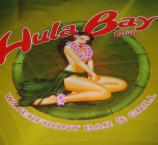 Happy Thursday Tampa Bay, Janette here to tell you about my latest dining adventure at one of my favorite spots in Tampa!
If you're looking for a great spot to wind down after a busy day, check out The Hula Bay Club and Duke's Retired Surfer's Island Bar!  Nestled along the Tampa Bay waterfront and soaked in the lush, laid-back landscape this island paradise has great views and excellent happy hour specials.
A few co-workers and I headed to Hula Bay for lunch on Thursday afternoon and enjoyed the gorgeous weather, the beautiful water and the signature seafood! Lunch was fabulous, but dinner is a terrific time to hit this great establishment as well.  Live music starts at 6:00 p.m. every day and every month the specials change.
The February Specials include:

Bayou Jambalaya – N'awlins favorite with andouille sausage, crawfish tails, chicken and shrimp over dirty rice.
Stuffed Group Bienville – Bienville style crab stuffed grouper served over crisp potato cakes and oven roasted asparagus.
Bourbon Street Snapper – Blackened snapper over roasted potatoes and andouille hash with Tabasco butter sauce. Garnished with swamp onions and buttered crawfish.

Fat Tuesday Chicken – Creole style paneed fat chicken with French Creole sausage and cream glacage.
So whether it's a tasty food or drink special, an upcoming event or some very cool live bands set to play,
Hula Bay is your place to sit back, chill and leave your workday hassles for another time. Until then… Aloha.
Check back with us often for more information on Tampa Bay dining!