Hello Tampa Bay, Alex here with some holiday event news from the Henry B. Plant Museum.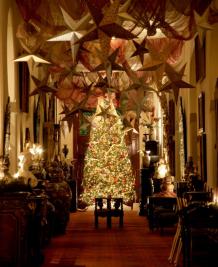 Christmas is just around the corner, and Henry B. Plant's Museum is getting in the holiday spirit with the 30th Annual Victorian Christmas Stroll, which is taking place December 1- 32, 2011 from 10 a.m. - 8 p.m. daily. This is a great way to experience the warmth and charm of an old-time holiday. 
 
Throughout the stroll, you will travel beneath towering silver minarets, and throughout the former Tampa Bay Hotel as it captures the spirit of the season – Victorian style.  There will be 14 exhibit rooms; each dazzling with trimmed trees uniquely designed in 19th century themes and antique holiday accessories. While strolling down the Grand Hallway, your spirits will soar as you become immersed in carolers singing, Charles Dickens, much loved toys and wrapped gifts, Christmas stockings and Old Saint Nick.
 
For those seeking tree-trimming inspirations, this year's Christmas trees will be graced by whimsical tea cups, beloved 'Twas the Night Before Christmas, etiquette driven language of fans, blinding white 1893 Chicago World's Fair, aromatic cigars, twinkling bells, and antique toys.

At the Christmas Stroll there will be complimentary spiced cider and savory cookies and each evening carolers will perform music for your merriment. Visitors are invited to sing with the carolers in front of the 15-foot tree in the hallway.

Watch a video on last year's Victorian Christmas Stroll, http://www.youtube.com/watch?v=z0_SJb21sxo.

What better way to get in holiday spirit then taking a walk through decorations inspired by a 19th century Christmas? Tell your friends and family today about the 30th Annual Christmas Stroll.

Admission is $13 for adults, $11 seniors and $7 youths (4-18 years). Discount Days are December 5, 6,12, and 13. On those days, admission is reduced to $9 adults, $8 seniors, and $5 youths.

Proceeds from the Victorian Christmas Stroll fund significant museum restoration and preservation projects, as well as educational programming.
 
The Museum is also having Bells of Christmas on Saturday, December 11th from 2:30 – 4:30 p.m. in the Grand Salon of Plant Hall (adjacent to the Museum).
 
This will be an enjoyable event with hand bell music performed by Clearwater Christian Bell Choir from Clearwater Christian College, Fanfare Ringers from First United Methodist Church of Lutz and St. Andrew's Ringers from St. Andrew's Episcopal Church, Tampa. The concert is free and open to the public.
Check back soon for more information on holiday Tampa Bay events happening in Tampa Bay!